Climate change is real with the last four years being the hottest on record. According to a September 2019 World Meteorological Organization (WMO) report, we are at least one degree Celsius above preindustrial levels and close to what scientists warn would be "an unacceptable risk".
We have seen and experienced extreme weather conditions from heat waves, to droughts, typhoons, and hurricanes causing mass destruction around the world. 90 percent of disasters are now classed as weather- and climate-related, costing the world economy 520 billion USD each year, while 26 million people are pushed into poverty as a result.
In an article by Dr Richard Munang, "Africa is heating up twice as fast as the rest of the globe, and with 20 countries already warming faster, this means that the safe threshold of 1.5℃ will be breached faster in Africa than in any other region. But climate change is only one red flag." A lot needs to be done.
With this, we would like to announce and congratulate Dr. Richard Munang on his appointment as the Deputy Director of the United Nations Environmental Programme (UNEP) regional office to drive the delivery of UNEP's programmes in Africa.
Dr Munang has built a wealth of experience in climate change when he joined UNEP in 2009 as the Climate change adaptation and development policy coordinator for Africa to his appointment in 2022 as Deputy Regional Director for UNEP.
---
Read more from Dr Munang
---
In an interview with CRTV on his new role as the Deputy Regional Director for UNEP in Africa, Dr. Richard Munang " A healthy planet translates to healthy people and healthier economies and it is upto us to ensure this happens."
"In my position I hope to bring thought leadership working with colleagues across the entire UN development system in the african continent towards ensuring member states and stake holders are supported with addressing 3 of the leading crisis of our time ie Biodiversity laws, climate change polution and waste. This will be addressed in a manner that unlocks investment and ensure there is food on the table and money in more pockets in Africa, ensuring the right policies and incentives are put on place and the right investments are put in place in ensuring that environmental challenges into opportunities."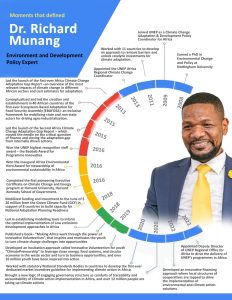 What fuels his passion in climate change? In his book "Making Africa work through the power of Innovative Volunteerism" Dr. Richard Munang highlights his childhood and the first time he experienced the devastating impact climate change had on his mother's farm in the village. It really frustrated him to witness his mother's tireless efforts in tilling their farmland, only met by failing rains and much-diminished harvest. To see old rivers ebb away. This built his curiosity and pondered on what could be done to salvage the situation.
This fueled his passion so much that after his education in Cameroon he enrolled for a Ph.D. and in 2008 he earned a Ph.D. in Environmental climate and policy from Nottingham University UK.
Dr Richard Munang believes in the power and resilience of Africa's youth which he mentors across the continent through his innovative volunteerism program with the objective of turning waste into opportunity. He also believes a clear purpose inspires purposeful passion which becomes the fuel to drive solutions towards an unborrowed vision. The time has come for everyone to develop an unborrowed vision tied to a very clear purpose of solutions fuelled with a purposeful passion that combines their skills and talents to come up with solutions to turn challenges into opportunities that benefit Africa as a whole. 
We wish Dr Richard Munang an impactful time in his office as Deputy Regional Director for UNEP Africa and we look forward to all the policy changes in biodiversity, climate change, and waste management.
---
Read more from Dr Richard Munang
---
Join the conversation on our Facebook or LinkedIn
We are sorry that this post was not useful for you!
Let us improve this post!
Tell us how we can improve this post?