Passports Beyond Borders in partnership with Arrows Consulting recently launched its #studyabroadseries in order to help students who are interested in pursuing their studies in a foreign country. In its second edition, the study abroad series focused on how to Study or Relocate to Canada. This webinar brought together students, parents, graduates, and others interested in pursuing their studies in a foreign country.
Our  Education expert from Arrows Transactions, Dr. Bosede Edwards during the webinar gave a presentation on why study in Canada, the application process, funding, visa processing, and the services offered by Arrows.
She mentioned amongst others the fact that Canada has quality education, there is access to global opportunities after studies, and there is the possibility for you to study and remain in Canada. She added that there is a high demand for essential workers and this is one of the things to explore if you want to relocate to Canada.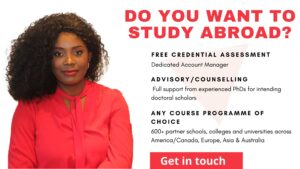 On Scholarships, Dr. Bosede said it is important that when you get a scholarship, you maintain your grades and GPA throughout your study period so as to avoid losing the scholarship. Any drop in scores will lead to a drop in funds.
"It's very important that you make a wise choice, because if you make a mistake from the point of what to study, then you may have to live with that mistake for a long time.
These are the questions to ask yourself when thinking about studying abroad:
What's your end goal or objective? That should guide what you should study.
2. What do you plan to do after studying? Are you planning to stay back or return to your home country? These are things that you need to consider." Dr. Bosede added as she concluded her presentation
Manka Nadine who left Cameroon in 2014 to study in Canada also shared her experience studying and working in Canada. Nadine mentioned that it is very important to explain why you are choosing a specific program and be very convincing about that when writing your justification letter. Nadine in the past received 5 rejections from the US embassy and 2 rejections from the UK embassy but got a Canadian Visa after only 1 attempt. She said visa denials should not discourage anyone from pursuing their study abroad dreams. She also advised that people should choose programs that are marketable like IT, and study those within one year or two years, get a job and then from there they can apply for permanent residency and go back to school if they choose to later on when they are already permanent residents. To Nadine, getting a job in Canada was very seamless.
She also advised that people with two or three years of work experience should rather apply directly for the Canadian Express Entry Program and save money on tuition. This is one of the easiest ways to become a permanent resident.
Our Canadian Immigration expert, Florian Kouka also gave a presentation on the top 10 reasons to immigrate to Canada and the different types of immigration visas, 
On the Canada Student Visa, he outlined the study permit process. He added that applying for a student visa gives you the opportunity of applying for a post-graduation work permit. However, the program you applied for must be for at least 8 months.
The Canadian PR Visa is the best way to come to Canada as it offers financial benefits, social security benefits, and better family life. He also outlined some of the reasons for the rejection of PR Visas like criminal background, inability to show proof of funds, etc.
A question and answer session followed each of the presentations as participants asked questions based on their personal circumstances.  
Kimberly closed the session by thanking the speakers and attendees. Important contacts and links for post-webinar follow-up were also shared.
Are you looking to study in Canada but are unsure about how to proceed? Get in touch with us by email here: info@passportsbeyondborders.com
Watch the recording of the study in Canada webinar here
MORE ARTICLES TO READ
We are sorry that this post was not useful for you!
Let us improve this post!
Tell us how we can improve this post?