Suh Afuuhnwi is a Cameroonian studying IT in Alberta Canada. In this conversation, he shares his experience moving from Cameroon to Canada as a student.
Why did you choose Canada as your study destination and what do you like and dislike about studying here?
Education in Canada is one of the best in the world and fortunately for me, I had 2 sisters living here already so Canada was a destination of value and convenience.
However, I consider International student tuition is to be extremely high. My program costs approximately $27,000CAD per annum. So there is pressure on the student to work to meet up with the financial demands.
---
As an International Student, do you require insurance while studying in Canada and how can this be obtained?
Insurance is mandatory for all international students. In my case, the school issues it to you after you have completed tuition payment for that academic year.
---
What is life like for International Students and how do you meet up with your living expenses? Can International students work and study? If yes, what are the limitations on this?
International students in Canada are allowed to work and study. You can do as many jobs as you want BUT you are not supposed to exceed 20hrs/week off-campus. Meaning, If you get a job on campus you are allowed to work as many hours as you can accommodate. You are also allowed to work for as many hours as you want during a scheduled break from school.
---
How are study materials like textbooks, handouts and information resources obtained? Or how can study materials be accessed?
All Study materials needed for the semester are uploaded on your study platform (which is D2L for my case ) prior to the start of the semester. Students are free to access it at any time.
---
How do International Students send or Receive money? Are there any limitations imposed?
I do not know if there are any limitations for sending money but for receiving it can be done through bank to bank transfer or agents such as western union and there are no limitations on that.
---
Can you describe what accommodation is like for students?
I will say accommodation here is divided into 3 categories.
First, we have the students who have family here in Canada which they can settle with. These just move in and settle in.
Secondly, we have students who do not have family here and are comfortable living in the residence provided by the school. The cost for living in residence is paid per semester and this cost is added to your tuition.
Lastly, we have students who do not have family here and do not feel comfortable living in the student hostel. Most often, students in this category come together and rent an apartment or house and split their rent.
---
Are there any negatives or things you wish you had known before moving to Canada for studies?
Life here is pretty great although it's very stressful combining school, work and personal life but at the end of the day, you will always find a way to make it work.
---
What was your experience with culture shock in this country and how did you navigate it?
Coming from my home country Cameroon where we refer to instructors as sir/madam, my first semester was quite challenging as this was not the culture here. Students call instructors by their name which was something I was taught to see as disrespectful. I adjusted to it after a while and now I see it as normal. I remember some time back during my first semester I will stand up to answer questions in class and everyone will look at me and think "why is he doing that?😅"
---
DOCUMENT PROCESSING
Can you describe what the visa application process was like in your home country?
Applying for a visa from my country Cameroon, was pretty straightforward. First, you have to get an admission letter from a designated learning institution in Canada. When you get the letter you can now submit your visa application using the admission letter you got from the school alongside the other requirements. There is no Canadian embassy/consulate in Cameroon. Cameroonians have to submit their documents at the Canadian consulate in Dakar – Senegal.
---
After admission, how long does it take to obtain a visa and what are the things to be noted?
After application, it takes between 2-3 months. You have to check your email ever so often because the embassy communicates by email. Several people have lost opportunities because they missed an important email from the embassy.
---
What is the duration of your student visa and how often do you need to get it renewed?
The visa has a 3 years validity and you can renew it as many times as you need to provided you are abiding by the terms of the study visa and you are still in school.
---
What happens to the student if their visa isn't renewed?
If your visa isn't renewed, you can't go to school and will eventually get kicked out of Canada. Which is also the same as overstaying your visa. You will get caught and deported.
---
LIVING IN CANADA
What kind of places do you think foreign students should avoid guaranteeing their safety?
I really can't tell. Everywhere here in Canada appears to be safe.
---
How do you commute to school and can you describe the transportation system and what are the best ways to commute?
For someone like me who lives really far from school, my best option is to drive to school. The other option is taking public transport but that's only helpful if you stay close to school.
---
What is the cost of living in Canada compared to your home country and what are the things you consider cheap or expensive? 
In my opinion, the cost of living here is pretty much the same as back home taking into consideration we make more money here. But I will say healthy or organic foodstuffs and gas (fuel) is quite expensive.
---
What are the local students like? In your opinion, is it easy to make friends with the locals?
It's really easy. All you have to do is talk especially with students from other countries. They sometimes would share the same culture as you.
---
Now that you are already here, what do you think about studying in Canada?
Studying here I will say it's more interactive and hands-on compared to education back home. We do a lot of practical learning here compared to the theory form of learning back home. I'll also say it's kind of stressful because you have to keep up with work and school.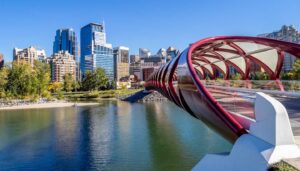 ---
What advice can you give to a prospective International Student who desires to come to study in Canada?
Read Also: Afor Nkwenti – How I Overcame obstacles by tapping into my superpowers
I'll advise anyone to grab the opportunity of Studying in Canada. It is a really nice place to be and the country has limitless opportunities which you can take advantage of. It is also one of the few countries that want you to remain in the country after your graduation. So it's a win-win.
Are you thinking about studying in Canada? Let us help you make these dreams come true. Send us an email: info@passportsbeyondborders.com or book a free consultation here.
You can also stay updated with us by following on Facebook or Instagram. You can also sign up for our newsletter to be the first to know when we publish a new story.
We are sorry that this post was not useful for you!
Let us improve this post!
Tell us how we can improve this post?