The first black woman to be elected as rector of the University of Aberdeen
Martina Besong Chukwuma-Ezike was officially installed as The Lord Rector of the University of Aberdeen in time-honored tradition on Friday, 25 March.
The University of Aberdeen was founded in 1945 making it Scotland's third-oldest university and the fifth-oldest in the English-speaking world. The University is consistently ranked among the top 160 universities in the world.
Martina Chukwuma-Ezike was installed as Rector in a ceremony at King's College Chapel, before being carried through Old Aberdeen atop student mascot Angus the Bull.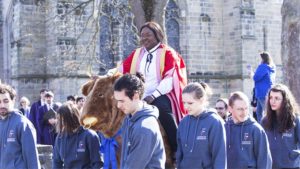 Martina was voted in by students following an election in November and began her three-year tenure on 1 January and following in the footsteps of other notable University of Aberdeen Rectors, including Winston Churchill.
Mrs. Martina Chukwuma-Ezike first arrived at the university-aged 27 as an international student and said the warm welcome she received helped her to settle in.
Martina said: "As a graduate of the University it is an honor to represent its students, and I look forward to working with AUSA and the student community to deliver on all the key issues raised in my manifesto, including mental health support, student safety and welfare, and employability skills.
Martina is a committed leader with a passion for making a difference in the lives of others and we are confident she would do great in her role as The Lord Rector of the University of Aberdeen.
Speaking after her landslide win, Martina said "I am delighted to have been elected as rector of the University of Aberdeen. I would like to say a massive thank you to my campaign team who have worked tirelessly, and to all those who voted for me. Students have put their trust in me to deliver my manifesto.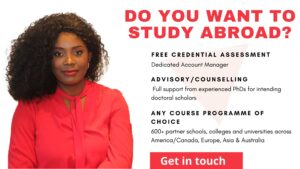 Mrs Chukwuma-Ezike is the Chief Executive of Asthma and Allergy Foundation, Scotland's only dedicated asthma charity which specializes in providing evidence-based health information, confidential advice, and practical support to people with asthma, their families, and carers. The organization set up the UK's first Asthma Support Centre in the northeast of Scotland, with offices in Aberdeen, Glasgow, and Edinburgh, and supports 13,826 people with asthma every year.
The University of Aberdeen has a community of more than 130 nationalities, with almost 200 students from Nigeria. It was founded with international connections and is open to people and ideas from around the world.
Mrs. Martina Besong's dad hails from Boki Local Government of Cross River State and her mother is from the Southwest region of Cameroon. She is married to Uchenna Chukwuma-Ezike, a chartered chemist and chartered scientist who hails from Anambra State, in Nigeria.
Read Also:
We are sorry that this post was not useful for you!
Let us improve this post!
Tell us how we can improve this post?