Whatever your reason is for traveling to Dubai from Cameroon, be it for work, leisure, vacation, or a business trip, you need a thorough guide to help you through the process to guarantee the best travel experience. There are so many important points to consider as you decide to travel. For example, you need to consider the duration, visa type, where to lodge, means of travel, etc. These points highlighted below will help you in your decision-making.
Where can I obtain a Dubai tourist/visit visa in Cameroon?
While there is no UAE embassy in Cameroon, it is not an option to obtain a UAE visa from the closest regional embassy (Nigeria) for Cameroonians. A UAE tourist visa can be obtained from a tour agency or hotel in the UAE that will apply for a visa on your behalf to the issuing authority in the UAE.
The UAE embassies do not issue tourist visas. In order to get a tourist visa to the UAE, you need to get in touch with one of the UAE-based airlines, a tour/travel agency, or a hotel (where you intend to stay) in the UAE who will apply for a visa on your behalf to the official visa-issuing authorities in the UAE.
Each airline has certain conditions, which must be met in order for your visa to be arranged by them. One of the conditions is flying with them.
Licensed travel agents and hotels in the UAE can arrange a tourist visa for you provided you purchase the ticket through them and maintain hotel reservation with the specific hotel.
You can also obtain a UAE visa from Cameroon through local travel agencies for any tourist packages available to the UAE in collaboration with a local tour operator in the UAE.
What Visa type should you go in for?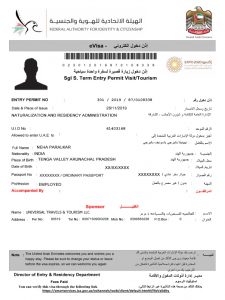 Your reason for traveling from Cameroon to Dubai determines the length of your stay and the Visa type you should go in for.
There are three (03) main types of visas that you can apply for from Cameroon.
Firstly you have a tourist visa, where you are traveling to Dubai for sightseeing or looking to settle for a job.
The work Visa in case you have gained employment in one of the companies in Dubai and wish to travel for work. In this case, your employer will apply for a pre-entry work permit.
Then there is the stopover/transit visa. This type is when you are just passing through Dubai to get to another country and you wish to exit the airport before your onward flight.
After deciding what Visa type to go for, it's time to process your documents.
What documents do you need to get your UAE Visa?
This is a list of documents that will be required to process your Dubai visa.  You may be asked to present additional documents depending on the visa type.
Your Cameroonian passport should be valid for at least six (06) months.
Four (04) colored passport size photographs of you (4×4) size photo taken on a white background).
Your confirmed airline booking
Your application form or additional documents depending on visa type
Note: With the existing Pandemic, you need to note that on traveling and arriving in Dubai and Abu Dhabi you must have a negative COVID-19 PCR test which was taken no more than 72 hours before departure, and present the certificate at check-in. Check covid requirements here
On arrival in Abu Dhabi, you will also be required to undertake a COVID-19 PCR test on arrival and will have to isolate pending the result of the COVID-19 PCR test.
If you test positive for COVID-19 on arrival, depending on your symptoms and your accommodation plans, you may be required to self-isolate in a government facility, a hospital, your hotel, or privately arranged accommodation for at least 14 days.
Now that you know what documents are required of you to get a Visa, let us talk about the costs of applying for a UAE visa.
How much does it cost to get a UAE visa?
The various visa fees include:
48-hours (02 days) Tourist Visa valid 48 Hours cost 6,000 Fcfa.
96-hours (04 days) Tourist visa valid for 4 days cost 17,000 Fcfa.
Tourist – short-term visa valid for 30 days on arrival date and costs 51,000 Fcfa.
Tourist – long-term visa valid for 90 days from arrival date. It costs 98,000 Fcfa .
Just a note, these figures are not finite. The visa cost is dependent on the visa sponsor.

How can you apply for a Dubai visa in Cameroon?
Applying for a UAE from Cameroon is pretty easy. There are no formal protocols to be met. If you prefer to use a local travel agency or tour operator in the UAE, all you need to do is submit your required documents listed above. This process can take between 5 -10 working days for a tourist visa which is the most common type.
What is the cheapest month to fly to Dubai?
The cheapest month for you to fly to Dubai is between April and August for obvious reasons. The soaring desert temperatures, Ramadan, etc make the UAE unappealing to visitors during these months. Thus the possibility of traveling and exploring the country at a reduced cost. You should note that Ramadan falls between April to the first week of May. During Ramadan, work hours are reduced, and most bars and restaurants for tourists have restricted service hours and restricted outdoor activities.
To benefit from reduced airfare, you need to book at least 1 month before departure to get a below-average price.
How many hours does it take from Cameroon to Dubai?
It takes 9 hours, and 30 minutes to travel from Douala, Cameroon to Dubai, United Arab Emirates. From Yaounde to Dubai, It takes 9 hours, 25 minutes.
Also Read:
Public transportation in Dubai
Dubai's metro consists of 29 stations and the RTA has 2148 bus stops. You can get to wherever you need to go or close to it with public transportation. The hours of operations depend on the day but both lines start opening from around 5:30 am until 1 am.
A taxi from the airport to the hotel is a bit more expensive because what you pay just for getting into the taxi is twenty dirhams (AED20). The minimum fare for a taxi in Dubai is 12 AED, the meter starts counting from 5AED during the day (6 am -10 pm) meanwhile at night(10 pm -6 am) it starts counting from 8AED. Your fare will increase based on the distance covered. If you want a cheaper means of transport, the public buses or metro will be the best option. Taxis start at 12 AED and go up by around 2.50 AED per kilometer.
If you are living in the city, you can rent a car for about 65 AED per day.
Where should you stay when you visit Dubai?
If you do not have relatives in the country, then you have to consider hotel options.
We have identified four main areas in Dubai that could potentially be the best place for you to stay;
Hotels near Burj Khalifa (Dubai's Downtown)like Armani Hotel, Taj Dubai, and Address Boulevard.
They have a panoramic view of Burj Khalifa, which is luxurious and will guarantee you a rich experience of Dubai.
Jumeirah Beach, the Palm Jumeirah Deira & Al Rigga with its wonderful view.
Dubai Business Bay, Dubai Marina.
What are the best places and attractions in Dubai?
The best places and attractions you can visit in Dubai are:
Burj Khalifa is the tallest building in the world.
The Dubai mall is the world's largest shopping mall.
Dubai coffee Museum
Desert Safari
Dubai Aquarium
Burj al-Arab
Jumeirah Beach
Mall of the Emirates
Dubai Opera
Alserkal Art District
Aquaventure Waterpark
Traveling to a different country means trying out their different meals as well. I consider food to be the highlight of my travel experiences. Do not miss a chance to eat like a local while in Dubai.
Here is a list of some food to try when you visit Dubai
Kabsa is Dubai's national dish.
Chelo Kebab with fragrant dill or sour zereshk berries
Mekong Chicken Burger
Stuffed Camel
Al Matchbous
Koshari
Turkish cocktails
Arabic coffee and dates
Stuffed Camel meat
There are also several Cameroonian, Nigerian, or African restaurants in any case you want to eat something familiar.
Can you extend your tourist visa while in Dubai?
You can extend your tourist visa for 30 days twice, upon renewal without the need to leave the country. However, you will need to apply for the second renewal before the expiry of the first one. Paying a non-fixed amount of 600 dirhams each time of renewal.
In case of any questions regarding the validity or expiry of your visa, contact UAE Immigration directly to bring your documents to conformity well in advance or you may be subject to fines for overstaying for every extra day that you stay in the country. Overstay fines are 200 AED for the first day and 100 AED for each day from the second day onwards. A service fee of 100 AED will be charged at the time of exit. If you extended your visa from inside the country, then 100 AED will be charged per day of overstaying.
I hope this comprehensive guide answers all your questions about traveling to Dubai. If you have any more questions, do not hesitate to leave them in the comment section.
---
Are you interested in visiting Dubai on a tourist visa? Send us an email at info@passportsbeyondborders.com

PBB would not be where it is today without the helpful input, contributions, and advice from thousands of people and you too can be a part of it. These are the several ways you can get involved. You can send feedback, suggest corrections to this article based on your experience, share your own story with us or other story ideas, or even become one of our regular contributors (see the kind of articles we publish here). You can get in touch with us through our contact page here or by email at info@passportsbeyondborders.com and we'll get back to you as soon as we can.
We are sorry that this post was not useful for you!
Let us improve this post!
Tell us how we can improve this post?