This guide will highlight the 11 best places to explore in Dubai by travel influencers. Once again congratulations on finally moving to Dubai. All the sleepless nights you had thinking about how you would adjust to a new place are over now. And after struggling a lot to find the right movers in Dubai, you deserve some time to travel and chill here on the weekends.
Well, obviously, hiring movers and packers in Dubai may already have taken a toll on your pocket, and you must be thinking that traveling will be yet another reason to loosen your pocket. But don't you worry; we've got you some affordable places to travel and explore in Dubai that the top travel influencers suggest.
Let's get started
The Dubai Frame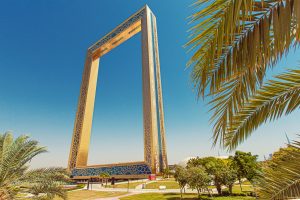 If it is not on your travel bucket list for Dubai already, you must add it right away. Dubai Frame is one of the amazing landmarks of Dubai's skyline. The major advantage of visiting is its affordability. Since you will be 150 meters high in the sky, you will get to witness the blissful panoramic views. Visit this place during the sunset and enjoy the sights of New Dubai on one side and Old Dubai on the other. You can also shoot the trending Instagram reel here, the one in which you walk on the glass floors, which is very thrilling.
Museum of Illusions
Want to have some fun, but sticking to the budget is also bothering you? Well, the Museum of Illusions is a place that you will enjoy the most for less than AED 100 per ticket! You enjoy seeing the wondrous immersive tricks and optical illusions. You can embrace yourself in over 60 exhibits and get amazing, engaging shots for your next vlog.
Dubai Safari Park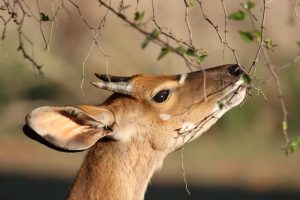 It is always a task to make your kids adjust to a new place. They may feel a bit low adapting to the new environment and making new friends. Taking them for a nice outing is one of the options that you can go in for to rejuvenate them. Dubai Safari Park is one such place that can really be a treat for your kids. It will not only be an outing but also expand their knowledge horizons. They will get to identify and encounter rhinos, deer, giraffes, lions, hippos, and many more. It is a place that is visited a lot by people and is very affordable. Not only kids but even grown-ups love to visit it.
Mamzar Beach Park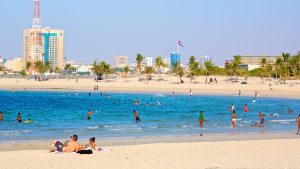 A place to sit back and relax with amazing views is all you need. It is one of those amazing and affordable attractions in Dubai where you get to relax and indulge in amazing activities like biking, barbecuing, watersports, etc. You can pick among the amazing 5 beaches here and enjoy the ambiance at this hidden gem. So, enjoy this beautiful place with pristine waters and open spaces.
Etihad Museum
Those who love to dig into the past and are big-time history buffs will feel blessed to visit this place. You can learn all about the UAE here. You will learn how the UAE became what it is today. All the important information is presented in the form of photos and films, which you can discover. You will also find interactive pavilions, an education center, and a library within the 25,000 sq.m. museum. It is among the most affordable places to visit in Dubai.
Miniature Golf Course and Yacht Club
You can enjoy playing minigolf at the Yacht Club and Dubai Creek Golf. The indoor mini golf course is one of the best places to visit with friends and is affordable too. Despite your experience and age, you will enjoy your time and practice here.
Chillout Ice Lounge
You will certainly want a cold place where you can escape the scorching heat in Dubai. And nothing could be better than visiting a place with stunning ice sculptures and zero temperatures. All this is possible at Chillout Ice Lounge in Dubai. This first-of-its-kind lounge in the Middle East is a perfect place to hang out. You can relax here, sipping hot beverages. Dress your best and visit this place to click some aesthetic pictures for the gram.
---
Read Also
---
Still On Places to explore in Dubai by Travel Influencers
Mushrif National Park
After all the moving hustle, you will certainly want a warm place where you can visit with your loved ones. Mushrif Park is an affordable picnic spot where you can visit with your family. You can choose a BBQ picnic to spend some quality time, or you can even enjoy the park's great sports facilities.
You can indulge in so many therapeutic activities here. There is a spacious football field and an amazing swimming pool, certainly the activities to feed your soul. You can even enjoy a quick scenic jog here or go for mountain biking trails. So, for just under AED 50 you get the chance to do such joyous activities.
Dubai Miracle Garden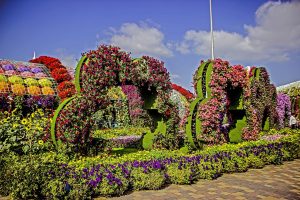 The award-winning attraction gets visitors from all over the world. Dubai Miracle is full of amazing sculptures and designs made of flowers. You can enjoy a walk here, embracing the blissful art of nature. Enjoy the scenic view both during the day and at night.
Dubai Creek Abra
It is one of the most scenic spots. The iconic landmark represents the aesthetic Dubai skyline. Enjoy riding an Abra here and have one of the most authentic experiences of your life. Abra is popularly known as a "water taxi". It is a traditional Arabian boat that runs through the four main spots in Dubai along the creek. You will be energized after this blissful experience.
Global Village
How about traveling the world in one place? Yes! Global Village is the one place in Dubai where you can get the pleasure to taste food and buy souvenirs from every place in the world. The famous attraction comes into play every October with unforgettable pavilions. People of all age groups can enjoy the theme park here.
So, these are some of the places that you can visit in Dubai that are pocket-friendly. I hope that you will have a great time exploring these 11 places recommended by some top travel influencers. Best Wishes.
Did you find this helpful? Leave us a rating and review on how we can improve.
We are sorry that this post was not useful for you!
Let us improve this post!
Tell us how we can improve this post?