In this article, you will learn everything you need to know about the strategies to apply and get a job in Dubai in 2022.
Dubai is one of the fastest-growing cities in the world increasing at the rate of 10.7% annually.
Dubai is known for its high-paying jobs and luxurious lifestyles as well as an expanding service industry. The service industry accounts for more than 70% of the total GDP. This is one of the reasons why Dubai is a favorite destination for Expats and people from all works of life. Thus having one of the lowest unemployment rates in the world.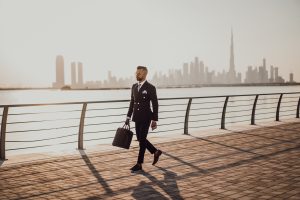 Getting a job in a market like this requires passion, commitment, competitiveness, and hard work. Here are my top tips for getting a job in Dubai
LEARN ABOUT THE JOB MARKET
The UAE is a relatively competitive market. This is because it is an attraction for global talent. Learning the job market and in-demand skills is fundamental and is the first vital step that you should take before proceeding to travel to Dubai.
Dubai's economy has many sectors in which you can get a job in Marketing, Finance, IT, Insurance,  Tourism,  Construction,  Sales, Healthcare, Banking, Hospitality, Catering, and Food industries etc
You need to focus on what you are skilled at and do research on the companies in your field. You can be skillful at something but your skills are not in demand in a specific environment. 
That is why it is important to find out first if your skills are in demand or if your industry is lacking in Dubai before you go there. If not build the required skills and experience you need before relocating.
It will also help you to be confident in applying because you will know what you are getting yourself into.
To know the job market in Dubai you need to do the following:
Learn about the economy, cost of living, and standard of living, so you know what to expect.

Find out about the average salaries so you can know how to negotiate a reasonable remuneration.

Get to know about the customs and manners of the country, so you look polite in each interview.

Learn about the labor laws because it is essential to know your rights and duties as a future employee.
PLAN AND ORGANIZE YOUR SEARCH FOR JOBS IN DUBAI
It is best that you organize yourself so you can find the best opportunity. Find out about the companies that are related to your field and know what they do.
Make a list of these companies and start looking for their open positions. You should use search engines to do your research, you get the company's website and visit it. There you will see if there are any job openings and apply.
Make a record of the jobs that you apply for including the date so that you know how long it takes to receive a call.
Make a record of the companies to which you sent your CVs and note which CV you sent to which particular company. It could be disappointing for a recruiter to ask you a question on a page of your CV and you are unable to recognize what he or she is referring to because you have an alternative CV. 
Follow these companies on LinkedIn and network with staff who work there. It's important not to harass persons online as you do not want to be unpleasant.
You can also get extra help in your job search through recruiting agencies that help job seekers find their dream position, like Connect Resources, one of the top-leading Dubai service providers.
Some other reviewed agencies you can use are:
Jivaro Partners (marketing & communications jobs), ESP International (conferences, events, hospitality), and  MCG & Associates (PR, publishing, marketing & communications jobs).
When you decide to work with an agency, look for companies that take a commission on the employer's end, not yours. 
You will be part of their talent pool, and when there is a vacancy that matches your academic qualifications, you will receive a call, and that may just be your great opportunity. 
Another effective way you can get notifications on jobs is by downloading Job apps like Indeed and LinkedIn through which you will have a message anytime a new job notification pops up.
GET THE NECESSARY DOCUMENTATION
The type of work you intend to engage in will determine the type of visa you will need. 
For example, if you are a freelancer or consultant what will be suitable is a freelance visa. In case you want to work on a part-time basis, you will prefer to remain on a tourist visa. In case you are looking for a long stay, the visa most economical would be a work visa which would be in most cases sponsored by the employer. 
However, not all employers provide visas for their employees. The provision of a visa is subjective to the company or organization.
That being said, you can get into the country on a visitor or tourist visa for your job search and once you get a job, you transfer the visa status to a work visa. 
Now you have to know where you stand because there are some nationalities that are legally allowed to remain for 90 days after arrival before applying for a work visa. Others are allowed to remain for 30 days and may even extend the right to 60 days renewable.
GET A LOCAL NUMBER
Once you get to Dubai, you should get a local number.
You can use your passport and visit visa to purchase a number upon entry from any of the two telecommunication providers (Du and Etisalat).
This is vital because you should be reachable to a recruiter intending to contact you. In most cases, recruiters prefer to have an initial telephone conversation with the applicant.
WORK ON YOUR CV AND SKILLS 
The most important tool in your job search is your CV. So work on your CV as it is necessary and important to facilitate your task in getting a job in Dubai.
Dubai's job market is very competitive and digitalized. Most recruiters make use of software to sort through the CVs of potential employees. 
To benefit from this, it is important to customize your CV to the job you are applying for by using Keywords from the advertised vacancy.
The average recruiter will only spend six seconds checking your resume. Make your CV worth those six seconds.
You can make your CV stand out by :
Choosing a format that reflects your personality and also looks professional. Clearly state the kind of person you are and point out the strengths that make you best suitable for the job.
Include your necessary information, education, and other skills.

Anytime you apply for a job make sure to customize your CV to fit exactly the job description, this will increase your chances of getting called for the interview.
Work on yourself. You should know well what your strengths and weaknesses are. Focus on your skills and always learn new skills which are required. Learn to keep developing your skills even if you already have a job.
Do not apply for a job you are not qualified for. Just because you are excited about a company does not mean you should apply to jobs that are not a good fit for your skills.
Registering on job sites eg LinkedIn is a great way to get started on your job hunt. It is useful to know the requirements or vacancies that companies have and understand if there is demand for your specific set of skills.
You should register on as many job sites as possible with multiple applications. You never know where you can be called.
WHERE TO APPLY FOR JOBS IN DUBAI
Applying for jobs has never been easier and keeps getting better each day. Just like in most countries, there are sites that are always updated with job vacancies. Sites like these should be your best friend. Check out the below sites and set alerts for new job adverts for interested roles.
For experienced & Highly qualified professionals you can search for jobs on the sites below.
For all other job types
BUILD YOUR NETWORK TO GET A JOB IN DUBAI
You must have heard the saying your network is your net worth. This is not a cliche. I mentioned earlier about following staff who work in the companies you aspire to work in on LinkedIn. Make constructive/value-adding comments on their posts. Your goal is to get noticed. The reason for this is that companies have a referral system of recruitment. You stand a higher chance of getting recruited if you know someone in the company. Be visible.
On a side note, it is also important to maintain a professional look on all your social media platforms, because an employer will check them to have a clear understanding of the kind of person you are.
When you have a good profile, you will be easily found by recruiters and hiring managers. The LinkedIn website has all the information required to help you create a good profile or you can learn more here.
Also, use LinkedIn as a way of scanning the market for jobs. By setting up job alerts you will get familiar with who is hiring for what.
Participate in online events related to your field so that you make great connections with other professionals.
Your network is very important when looking for a job in Dubai.
"It is not what you know but who you know".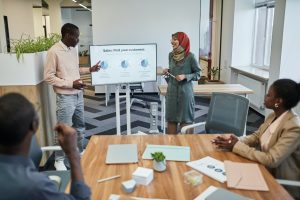 You can find jobs through networking, so try to increase your connections and be friendly with new people. Do not focus only on your circle as it is possible you can get a job from another connecting niche.
LEARN ARABIC
While this is not mandatory, it is a plus to knowing the local language (Arabic). 
I can bet that in a case where you are with a candidate with similar strengths and skillsets, you who knows Arabic will be offered the position. Give yourself that edge and learn the language promptly.
Even if you do not fully know the language well, make an effort and learn the basics. The basics can help you interact well with people.
There are other important languages spoken by a majority of residents in the country e.g. Hindi etc. Learning one of these could be beneficial to you and will give you an edge over other candidates. 
APPLY AND FOLLOW UP
When you apply for a job, it is possible to receive the call and go to the interview, and if you manage to impress the employer, you get called for the offer.
Did you also know in an event where you do not get the call you can follow up? That is to call the potential employer or send them an email to let them know that you are highly interested. When you do that, it will make a big difference from the rest of the candidates.
Companies have their contact numbers online and most companies have a toll-free line. You can call and request to speak to the HR person. 
Doing research on Google or LinkedIn will facilitate this process by knowing who exactly the Human Resource manager is so that you can have direct communication with the Human Resource Manager by expressing your deep interest in the job.
YOUR LOCATION
I know a couple of people who were recruited to work in Dubai from their home countries eg Cameroon. While this is possible, the chance of getting a job out of the country is relatively slim. Employers would rather recruit from within the country to minimize any associated costs. Also while in Dubai, it's important
In your job search, be patient. It takes time to find a job anywhere in the world and Dubai's job market is particularly competitive. Simply follow all the aforementioned guidelines and be sure to grab that job.
Did you find this helpful or have any other tips to add? Let us know in the comment section below.

Do you want to visit Dubai on a tourist visa? Send us an email: info@passportsbeyondborders.com
Stay in touch with us on Facebook and Instagram.
---
Read More Articles
Have you got any topic ideas for Dubai (UAE)?

We are sorry that this post was not useful for you!
Let us improve this post!
Tell us how we can improve this post?