Cameroonian artists in the United Kingdom are invited to seize the opportunity for cultural collaboration offered by the Commonwealth games 2022 to be held in the city of Birmingham, UK from 28 July 2022 to 8th August 2022. The opportunities range from Media, Food, culinary art and dance amongst many others.
The Cameroon High Commission in London published the below press release.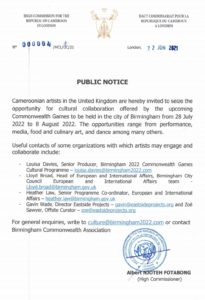 Commonwealth Games 2022 call for collaboration with Cameroonian Artists in the UK.
Useful contacts with which artists may engage and collaborate include:
Louisa Davies, Senior Producer, Birmingham 2022 Commonwealth Games Cultural Programme – louisa.davies@birmingham2022.com
Lloyd Broad, Head of European and International Affairs, Birmingham City Council – Lloyd.broad@birmingham.gov.uk
Heather Law, Senior Programme Coordinator, European and International Affairs – Heathers.law@birmingham.gov.uk
Gavin Wade, Director Eastside Projects – gavin@eastsideprojects.org and Zoe Sawyer, Offside Curator – zoe@eastsideprojects.org
For general enquiries, email culture@birmingham2022.com or contact the Birmingham Commonwealth Association.
Read Also: How to apply or renew a Cameroon Passport in the UK in 2021
Where will the Common Wealth Games be in 2022?
Birmingham will be the host city of the 2022 Commonwealth Games after a tumultuous bidding process. The South African city of Durban had been selected as the original host but it was stripped of the Games in March, after failing to meet numerous financial deadlines. Birmingham and Liverpool were both interested in hosting and it became a head-to-head battle between the two but the government preferred the Birmingham bid. After it was eventually deemed "non compliant", however, the deadline for other cities to apply was extended in an effort to encourage a rival bidder.
The Games will therefore be held in England for the first time since Manchester hosted the multi-sport event in 2002.
What are Common Wealth Games?
The Commonwealth Games is an international multi-sport event involving athletes from the Commonwealth of Nations. The event was first held in 1930, and, with the exception of 1942 and 1946, has taken place every four years since then. The Commonwealth Games were known as the British Empire Games from 1930 to 1950, the British Empire and Commonwealth Games from 1954 to 1966, and British Commonwealth Games from 1970 to 1974. Athletes with a disability are also included as full members of their national teams, making the Commonwealth Games the first fully inclusive international multi-sport event. It is also the world's first multi-sport event which inducts an equal number of women's and men's medal events and was implemented recently in the 2018 Commonwealth Games. With such unique features, the World Economic Forum called the event inspiring and significant.
---
Follow PBB on Facebook, on Twitter and sign-up for our newsletter for the latest updates direct to your email.
We are sorry that this post was not useful for you!
Let us improve this post!
Tell us how we can improve this post?