IMPORTANT NOTICE
From the 1st July 2021, new rates for consular services will apply.
This is in conformity with ordinance No 2021/003 dated 7 June 2021 of the President of the Republic of establishing new Passports and Visa fees.
The service rates are listed as follows
3months Visas: £165
6months Visas: £330
Passport (ordinary): £210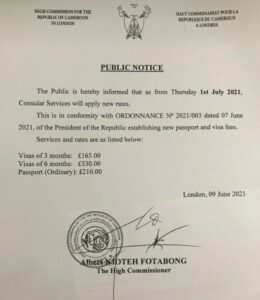 The process of applying for a Cameroon passport at the Cameroon High Commission in the UK has never been easier compared to what it was a few years ago. However, despite the ease in the application process, the one necessary inconvenience is the displacement by the applicant to travel down to London to make the application in person. The simple reason for this is the mandatory collection of biometric data (fingerprints) and the applicant's height.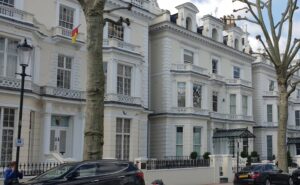 Cameroon Embassy Location
The High commission located on 84 Holland park, W11 3SB is open to the public 4days a week (from Monday – Thursday) and applications are made between the hours 10:00 am – 1:00 pm
Cameroon Embassy London Contact Number – 020 7727 0771
The application process can broadly be divided into two parts.
Getting the required documents for your Cameroon passport application
Making the trip to the High Commission for the application process.
Required Documents for obtaining a Cameroon passport in the UK include
Original copy of your Cameroon Birth Certificate
Current passport and Photocopy of the data pages
Original and photocopy of your UK residence permit or entry visa
Original and Photocopy of your Cameroon National ID card
Four coloured photos passport size photographs 5cm(length) x 4cm (width) taken against a white background, full-face view with ears visible. If in doubt, please NOTE you can use the same picture dimension as the UK passport. Also, note there is no photography service at the High Commission so ensure you take along your photographs except you do not mind scouting the area in search of a Photography service.
Original of marriage certificate and photocopy (applicable to married women opting for name change).
Application form to be collected at the High commission which requests information such as First and Last names, date of birth, place of birth, names of both parents, your current profession, place of residence, National ID card number, date and place of delivery, your home address in the UK, Old passport Number, Date of issue etc.
Application fee of £160.00 in cash
What to Expect
The High Commission doesn't operate on an appointment based system, applicants can walk in when doors open at 10:00 am. However, if you arrive before 10:00 am, expect to queue outside for a while. With the raging pandemic, the probability of having a crowd is low.
When doors open at 10:00 am, you walk in and turn left into a room where you will be attended to. If you are applying for a new Cameroon passport /passport renewal, you will be given 2 forms and redirected to the conference hall to fill up the forms. After filling up the forms, the other requirements(as listed above) will be collected from you, cross-checked etc and then only will you make the payment of £160.00 in cash
If you arrive without CASH, an ATM at a Tesco is about 500m away from the consulate where you can withdraw money. It would be wise to come along with your cash because you just never know.
After payments, your receipt will be handed over to you and you will be told to check the website in 2months. However, the collection date on the receipt will indicate collection within 5-6 months. The names of available passports will be published on the Cameroon High Commission website. Collection dates for passports are between Monday to Thursday from 10:00 am -1:00 and 3.30 pm and 4.30 pm. Please kindly confirm collection days and times here
How to collect your passport from the Cameroon High Commission London
As someone who has gone through excruciating paperwork processes, I found the collection of my passport a breeze. When your passport is ready for collection, your name will be published on the website.
Collection can be done in person or sent by post through special delivery. Confirm in-person collection time on the embassy website
I used the special delivery option. You put your collection receipt in a special delivery envelope addressed to the embassy.
In that envelope, include a special delivery return envelope to your address.
Other Information
Birth certificates of children born in the UK are encouraged to be transcribed before the child turns 1 and can be transcribed for a cost of £10.00. Note, you require a transcribed Birth certificate to apply for an emergency travel document or "Laissez Passez" for a child born in the UK. see details here
Children 0-12years do not need to travel to the consulate when applying for a passport. All Children above 12years of age must travel to the consulate to get their biometric data collected for their travel documents.
Consular fees for the Same day visa service is £150 = £110 + £40
For those who would like to collect their visas without travelling to the Consulate in London: Postal service would cost £140 = £110 + £30 (including return envelope with address)
It is important to note that the embassy staff are very accommodating, so please ask any questions by telephone.
And lastly, empty your bowels before getting to the consulate as the restrooms MAY not be functional.
Have you recently applied for a Cameroon Passport in the UK? Let us hear your experience in the comment section below.