The President of the Republic of Cameroon, HE Paul Biya on the 17th June 2021 signed Presidential Decree no. 2021/347 laying down the new Cameroon passport application process.
This decree lists the conditions and the procedures for obtaining the 3 types of biometric passports: the ordinary passport, the service passport and the diplomatic passport.
I had the privilege of using this service on its inauguration day today 01 July 2021. I must say, I was quite impressed at the hospitality and the level of professionalism displayed was remarkable.
The New Passport production centre is located in the Etoudi neighbourhood, just between the Tongolo traffic light after Mbala 2, and the famous Carrefour de la Presidence, on the left. The centre is so conspicuous that it can easily be spotted from the main road
PRE-ENROLLMENT PROCEDURE
My ordinary passport application started with logging into the website https://www.passcam.cm. for an online pre-enrollment procedure. Once in, you will be requested to choose to be notified by phone number or email address. I selected phone number and entered my contact to which a code was sent. You will need this code to proceed to the pre-registration page. This code would permit you to re-login in case you didn't complete the pre-registration process in one sitting.
Read Also:
Once on the pre-registration form, you will be asked to fill in your personal information from name to date and place of birth, ID card information, parents' names and other personal details after choosing the reason for the passport.
Upon completion of the personal information form, you will be directed to the fee payment page where you will be prompted to choose payment options: either through mobile money, orange money, express union etc.
Ordinary Passport Cost: 110,000XAF
Ordinary Passport Validity: 5 Years
Once the payment is confirmed, you will be re-directed to the appointment page to choose an appointment date and time. A confirmation message and email will be sent with a form to print and bring along on the appointment day with some other documents namely:
REQUIRED DOCUMENTS FOR YOUR CAMEROON PASSPORT APPLICATION
– a certified copy of your national ID card (certified at any police station)
– a certified copy of your birth certificate (certified at the council)
– any proof of profession
WHAT TO EXPECT ON YOUR PASSPORT APPLICATION DAY
When you arrive at the Cameroon passport production centre, your temperature is taken, your documents checked, ticket printed and you're directed to sit and wait for your number to be called/displayed on the screen.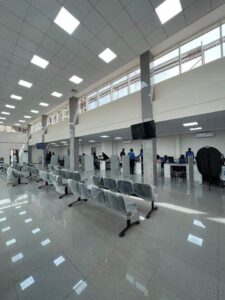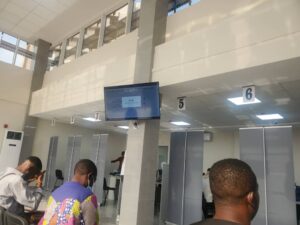 You proceed to the stand to be served. The process takes about 15mins if your documents are in order. No additional fees are paid at the production centre.
I was told I will be notified by SMS within 48 hours, once my passport is ready for collection.
COLLECTING YOUR PASSPORT
48hrs after your passport application, you'll receive a text notifying you that your passport is ready for collection. See screenshot below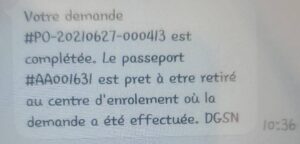 Thanks to this new passport, Cameroon is definitely embarking on the path of modernity and reliability.
---
Disclaimer – Effort has been made to ensure the accuracy of this personal account. Please verify or check for updates on the DGSN website. PBB accepts no responsibility or liability whatsoever. When brought to our attention any errors or omissions will be corrected.
Author