This article outlines the procedures, requirements, and fees needed to get a new Cameroon passport in Dubai, UAE(United Arab Emirates).
Applying for a Cameroon Passport within and outside of Cameroon has always been a big challenge up until the 1st of July 2021 when the new biometric Cameroon passport procedure was rolled out.
The 30 Page Cameroon passport with 5 years validity will cost FCFA110,000 irrespective of the country from which you are applying.
The simplified Cameroon Passport renewal process in Dubai, UAE can be done in 3 main stages. You can watch the step-by-step process in the YouTube video below.
The pre-enrollment stage
Registration at the Consulate General
Collection of your passport from the Consulate
Step 1: Pre-enrolment via the Online Portal
The first step to applying for a Cameroon passport in Dubai and anywhere in the world is registering your personal data via the website (www.passcam.cm)
On the www.passcam.cm website, you'll be able to select your preferred language either French or English, you'll also be prompted to select a means of communication either email or text message.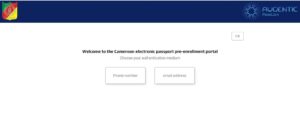 You'll also be required to fill in some personal information and your reasons for applying for a passport and your intended travel destination. After completing the information section, you'll be redirected to the payment page where you can make your payments through any of the following means; MTN MoMo, Orange Money, Express Union, by Credit Card or Yoomee
After payments, then only will you be able to choose an appointment date and place after which you will receive a confirmation self alongside a file that you will print and carry along on your appointment day.
Side Note from the experience of others: You MIGHT encounter issues when paying by debit or credit card. If you face this problem, a remote alternative may be to send/transfer funds(the cost of the passport) into the Mobile Money account of someone you trust in Cameroon. This Mobile Money account can be used to complete the online transaction.
Step 2: Physical Enrolment or Registration at the Cameroon Consulate in Dubai
You'll be required to attend your appointment in person (with your receipt issued online) on the date indicated in the text message you received after the pre-enrollment procedure. Lets talk about the documents you will need to apply for your Cameroon passport in Dubai.
Required Documents for the Application of your Cameroon Passport in Dubai
For your Cameroon Passport Application process, you'll need the following documents. Failure to may result in a rejection of your file;
The receipt which was issued online during the pre-enrollment process
Your original birth certificate + Certified copy (to be certified at the Consulate General)
A valid national ID card + Certified copy (to be certified at the Consulate General)
Supporting Documents of your profession (Employment contract/offer letter) if you would like your profession indicated on your passport.
Marriage certificate + certified copy; for married women wishing for a name change (to be certified at the Consulate General)
2 Photocopies of your visa/Emirates ID
Parental authorization for minors to be certified at the Consulate General
A declaration of loss for those who have lost their passports
50AED for certification fees for the required documents.
75AED for a consular card
2 photos 4×4 for babies
It should be noted that all Cameroon Passport Applicants in Dubai will incur an additional cost of AED200 to cover the delivery cost of their passport in Dubai via specialized companies.
All children under 15 are required to attend appointments only for photographic purposes as their fingerprints are not required.
What to Expect on the day application Day of your Cameroon Passport in Dubai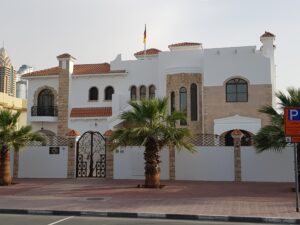 On your appointment day, you will be enrolled by the Consular officer who will scan your receipt, verify your required documents and proceed to take the passport size photos and biometric data (fingerprints). All photocopies will be certified and your file will be forwarded to the Production Centre in Yaounde at the end of the registration process.
Step 3: Collection of your Cameroon Passport from the Consulate
All passport applicants will be notified when their passport is ready for collection via texts/email entered at the time of enrollment. Your next question may most likely be, how long does it take to for the production of a Cameroon passport in Dubai? This process will take 30 days from the enrollment date until it is available for collection at the Cameroon Consulate.
Also to collect your passport, you'll be required to present the notification sent to you by email or text message and any Identification document.
Where is Cameroon Consulate located in Dubai?
The Cameroon consulate in Dubai is located at;
18 73 B St – Al Satwa – Dubai – United Arab Emirates
What are the opening hours of the Cameroon consulate in Dubai?
Monday          9:30 AM – 4 PM
Tuesday          9:30 AM – 4 PM
Wednesday     9:30 AM – 4 PM
Thursday        9:30 AM – 4 PM
Friday             9:30 AM – 4 PM
Saturday          Closed
Sunday            Closed
Contact Details of the Cameroon Consulate in Dubai
Email: Consulacamdubai@gmail.com
Phone Number: +971 4349 1606
Cost of applying for a Cameroon passport in Dubai?
Here is a breakdown of the costs of applying for your Cameroon passport in Dubai
Passport Cost = 110,000xaf
Shipping cost= 200AED
Certification cost = 50AED/ Document
Some Important Information to note about the Cameroon Consulate in Dubai
When applying for your Cameroon Passport in Dubai, ensure to attend your appointment with the exact amount of notes/cash. The probability of the inability to change your money by the consulate cashier is high.
Operation timing could be an issue. On the day of your appointment, it is important to clear your schedule of any other activities as the application or collection process may take longer than expected.
---
---
I hope this comprehensive guide answers your questions about applying for a Cameroon Passport in Dubai. If you have any further questions you can email the Cameroon Consulate in Dubai – consulacamdubai@gmail.com
For more details on the enrollment procedure, watch this video on YouTube
See important Documents for your attention
Have you recently applied for a Cameroon Passport in Dubai, UAE? Please let us know in the comment section your experience and what others can be aware of.
You can connect with us on Facebook and Instagram or you can send us stories/news updates from Dubai/UAE to info@passportsbeyondborders.com
---
PBB wouldn't be where it is today without the helpful input, contributions, and advice from thousands of persons and you too can be a part of it. These are the several ways you can get involved. You can send feedback, suggest corrections to this article based on your experience, share your own story with us or other story ideas, or even become one of our regular contributors (see the kind of articles we publish here). Get in touch with us through our contact page here or by email at info@passportsbeyondborders.com and we'll get back to you as soon as we can.
We are sorry that this post was not useful for you!
Let us improve this post!
Tell us how we can improve this post?