If you are planning to study in Cyprus then this comprehensive review and guide is just for you. Cyprus is an island country in the eastern Mediterranean Sea south of the Anatolian Peninsula. It is the third-largest and third-most populous island in the Mediterranean(approximately 1.2 million people). The island is located south of Turkey, Its capital and largest city is Nicosia.  Cyprus is also known for its mineral wealth, superb wines and produce, and natural beauty. Cyprus is also considered one of the safest and friendliest places in Europe. Not only for expatriates but international students as well.  The crime rate is very low on both sides. However, it is important to keep your valuables safe and not to give petty criminals an opportunity.
In this interview, we speak to a Cameroonian Student (DEPASA) studying in Cyprus for his review on studying the country and this is what he had to say.
STUDYING IN CYPRUS
What Part of the country do you live in?
Gazimagusa (North Cyprus)
Why did you choose to study in Cyprus?
Because of my study program. The Island is a Touristic Site
What exactly do you study there and why did you choose that course?
Studying Tourism and Hotel Management. Tourism is highly practiced here since it's an island part of Cyprus
What do you enjoy most about studying in this country?   
There is cultural diversity since we have students from all over the world studying here. Besides their fees are moderate. Most universities here are accredited
What do you hate most about studying in this country?
As a student here, our major challenge is the language since Turkish is the language used here, and also as a student, you are not allowed to work without a work permit from the government. In some other countries, students have up to 20 hours a week to do part-time jobs.
How much does it cost to study there?
Depending on the program of studies, a master's student can pay from 1500 Euros for each year. Most Masters program are just for two years while undergraduate students will pay higher amounts since they have more years of studies approximately 5000 Euros depending on the program as well
Are International students required to learn the language prior to starting school?
In some Universities here international students(undergraduate) need to take courses in Turkish, German, French and take an exam as well. Meanwhile, for Master's students, the language of instruction is English.
Do International Students require insurance while studying there? If yes, how can this be obtained, or how does it work?
As a student Health Insurance is Compulsory and is included in your Tuition fees. When you are sick and you find yourself in a hospital, you will then present your school identification documents to obtain discount
As a student, how do you meet up with your living expenses? Can International students work and study? If yes, what are the limitations on this or any parameters?
Students can do part-time if the company makes a request from the right office and they will issue a temporary work permit. But in a normal situation, students are not allowed to work here. From time to time, the Police carry out patrols to check and if found, they give fines to the employers. Besides language barrier is also another issue. The official language here is Turkish. Students most at times need to get financial support from their families back home
How are study materials like textbooks, handouts, and information resources obtained? Or how are study materials accessed?
Here we have libraries and bookshops in schools where students can obtain textbooks. Handouts are also accessible and some courses are online. Actually, there are just a hand full of face-to-face classes in this country ever since the outbreak of the COVID-19 pandemic.

How do International Students send or Receive money? Are there any limitations imposed?
To receive money, we have money transfer agencies like RIA, MoneyGram, Western Union, etc but to send money, Banks need to confirm the source of the funds since most transactions have to go through Turkey before arriving at the final destination. Even to create an account as a student needs a lot of procedures and documents to present especially if you are a student. But that notwithstanding it is possible since some universities either partner with some banks here or personally own them
Can you describe what accommodation is like for students?
Accommodation here is very affordable. Some Universities have student hostels, some real estate companies also have dormitories for students and private individuals owning apartments also rent out to students. It is also easy when students come together and rent an apartment together and share the bills. Most apartments here are already furnished by the owners.
Are there any negatives or things you wish you had known before going to study in Cyprus? What is life generally like?
So far life in the country is manageable if you have a source of financial support. The only negative thing is the barrier to part-time jobs and the problem of language.
What was your experience with culture shock in this country and how did you navigate it?
As an international student studying in an international university, I find the habit of smoking disconcerting. In every corner of the school, you'll have cigarette bins. Most at times, you see small groups of young students both boys and girls smoking together. At times their lecturers are been spotted with them smoking together. Where I come from (Cameroon) smoking for young people is more of a taboo. Let alone young and old smoking together in groups is unheard of. I struggled with this. What is even more disturbing to me is that some African students have started joining these groups to smoke together.
What is it like studying here post-pandemic? How has this affected you as an international student? And also what has generally changed for international students?
Nothing much has changed since the pandemic. Some classes have gone back face-to-face while a majority are still doing lessons online.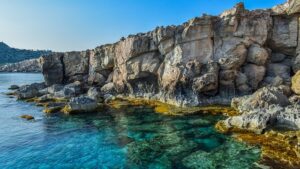 DOCUMENT PROCESSING
Can you describe what the Cyprus student visa application process is like from your home country?
International students from some countries where they don't have consular sections or embassies just need to apply online. Once admission is granted, you can book your ticket and travel to Cyprus since the visa is being issued at the port of entry in the case of my country Cameroon.
What is important to note is that the Originals of your certificates are being collected at the registration office upon arrival in school. This is so because most international students are in the habit of not going to school. Even if a student does not present it instantly you have to make an undertaking stating a limited time to hand it over to the school administration.
What is the duration of your student visa and how often do you need to get it renewed?
Every academic year, an international student needs to renew to get a student permit. It is also not expensive. After you pay your tuition for that year, the school will send your information to immigration. As a student, you'll have access to log in to the immigration website and then you will see your information. Immigration will send you to go for a medical check-up after one week the result is out, which will be sent directly to the immigration office, only upon receiving this medical info before they can issue a one-year residence for you as a student. Previously, it cost 825 TL but has now been increased to 1200TL (approx. $88.36).
What happens to the student if their visa isn't renewed?
If a student's Visa is not renewed he or she will lose the chance as a student in the country. Automatically he or she becomes illegal but can only be considered if he or she has another admission and pay the immigration fees. To obtain a one-year student permit from immigration, you must be a fully registered student in the country.
What are the consequences of overstaying your visa?
There are no consequences since just a few international students stay back after the completion of their program as there are no job opportunities for them. Most Students relocate to another country.
LIVING IN CYPRUS
What kind of places do you think foreign students should avoid guaranteeing their safety? 
Generally, Cyprus is a peaceful country, just that some international students do misbehave at times and fight in their hostels or dormitories. Even though it is not alarming. I consider the country to be very safe.
How do you commute to school? Can you describe the transportation system and what are the best ways to commute?
The best way to commute is by Bus Service. Some Universities have buses that transport their students free of charge. Some students do car rentals as well.
What is the cost of living in there compared to your home country and what are the things you consider cheap or expensive?
Housing is manageable as well as food. But recently the country is experiencing a fall in its currency(Turkish Lira)
What are the local students like? In your opinion, is it easy to make friends with the locals?
Not really, Since there is a language barrier. It's either you learn or speak Turkish or better still use Google translate each time you need to communicate with them.
Now that you are already here, what do you think about studying here?
Tuition in Cyprus is very affordable. Accommodation too is very decent and affordable. But the fact that international students are not allowed to do part-time here is an issue. As a student, you have to make plans of relocating to another country or returning to your home country at the end of your studies.
What advice can you give to a prospective International Student who desires to study in Cyprus?
Personally, my advice is that if a student is planning to study here, he or she must be ready financially and not think he or she will work and pay tuition. Also as an international student after studying here you have the option to either return to your home country or apply to further education in another country.

Did you find this helpful? Then share with your friends on your social media.
Are you looking to study abroad and would require assistance in making your study dreams come true? Then send us an email: info@passportsbeyondborders.com for your free consultation.
Are you a student in North Cyprus? Share your thoughts with us in the comment section.
We are sorry that this post was not useful for you!
Let us improve this post!
Tell us how we can improve this post?