Aberdeen is often referred to as the oil and gas capital of Europe. The number of jobs created by the energy in and around Aberdeen is estimated at half a million (source Wikipedia). This industry attracts many skilled workers to Aberdeen, like several other cities across the UK. In this interview, we speak to an expat who moved to Aberdeen from Malaysia. Currently, in his 3rd year in Aberdeen, he has a few things to share with anyone considering living as an expat in Aberdeen.  
What are your names and what country are you originally from?
Sunday Ibagere and I am a Nigerian
Where do you currently live?
Aberdeen, UK
Why did you move here?
Job relocation from Malaysia.
LIFESTYLE – AS AN EXPAT IN ABERDEEN
What do you enjoy most about living here? What is the local lifestyle like?
Aberdeen has lots of family-friendly communities. The locals are generally warm and receptive, once they get familiar with you. You will even find people giving you a warm smile while walking the streets.
What are the things you do not enjoy about Aberdeen/UK?
The high and progressive tax system
The weather (Winter) could be depressing if you have not built a solid community.
The health service bureaucracy.
Do you think it is easy to get a job in the UK?
I moved here as an expat, so I did not have to look for a job. However, I think there is a high demand for highly skilled and even unskilled labor in the job market.
If you are in the country, it may not be as hard to get a job however, employers in the UK value experience more than certificates. So, if you can prove that you have the required skills for the role you are looking to apply for then yeah you can always get something doing.
A lot more in the south and midlands of the UK than in Aberdeen per se.
What do you wish you had known before relocating here?
Difficulty in accessing credit facilities. As a foreigner, you need up to 2 years to build credit and get a good/acceptable credit score from most lenders.
What are your thoughts about the weather and what should expats know about the weather before moving here?
The weather (Winter) could be depressing if you haven't built a solid community. The experience of white Christmas might be fulfilling for some, but for others, it's a nightmare in terms of commuting and having great outdoor time. Generally, the problem is your attire rather than the weather. Keeping warm is a non-negotiable, if you aren't conversant with -5*c to <10*c temperature for most part of the year in Aberdeen.
Talk about the income tax system in this country. What can you highlight about income tax in the country? 
You pay Scottish Income Tax if you live in Scotland. It's paid to the Scottish Government and applies to your wages, pension, and most other taxable income. Personal Income tax differs within the United Kingdom, but you'll pay the same tax as the rest of the UK on dividends and savings interest. The table shows the 2023 to 2024 Scottish Income Tax rates.
What is the work culture here like? And what are the things expats/foreigners should know about this work environment?
Work Culture – Overall, it is a people-first culture. Hence everyone understands their rights and privileges and expects them to be respected. Generally, like many countries around the world, most people are in the 8-5 jobs with Friday being half-day for most corporate structures. Weekends are for family and friends, not colleagues or work. It's a critical point to understand and avoid reaching out to colleagues on their days off, weekends, or vacations.
Know your colleagues – Establish that honest and keen relationship ASAP. Let them know you and understand your culture and where you come from. Also, be willing to learn about what is of interest to the locals. It's important to understand the aspect of diversity and inclusion.
What do you think about the labor market and what kind of opportunities are available here?
Aberdeen, aka oil capital of Europe, implies, the majority of the workforce and job market is dominated by the O&G sector, followed by tourism and renewable energy. As per Aberdeen Key Facts Report 2021, 72.9% of the population is employed aged between 16-64. The age bracket is indicative of how early the residents start working (apprenticeship, internship, etc) which to me is a great take-home.
What is the process of obtaining a work permit from your home country?
The UK has varied entrance routes for work permits. Will refer to the UK Home Office for more information. I am under corporate sponsorship.
What is the cost of living here compared to your home country? What are the things you find cheap and what do you find expensive?
The cost of living in the UK is generally much higher than in Nigeria. Comparing Aberdeen to a state like Lagos, the latter is 53% less expensive than the former. Hence, a better standard of living.
How would you rate public transport? Must expats own a car? What is the most memorable experience of using public transport?
The city of Aberdeen is generally interconnected by public transport (bus, train, or public taxis). Generally, most if not all expats own a car(s). The memorable experience was our first day in Aberdeen, boarded a taxi from the airport to our accommodation and the driver didn't refund my balance but immediately drove off after noticing where I work. Hence, I avoid unnecessary conversations with cab drivers. I will recommend the UBook app for taxi rides as you can pay directly by card.
What is the process of opening a bank account like? What do you think people should be aware of?
Generally, documents requested include but are not limited to, Employment confirmation from the Employer, proof of residential address, copy of passport & BRP.
What is the process of purchasing a car like? What are the popular and recommended cars to use while in this country?
Car purchase is generally a straightforward process, but a little cumbersome for expats especially Africans because of their lack of credit history. 1. Upon arrival, visit a bank and create a bank account ASAP. Generally, documents requested include but are not limited to, Employment confirmation from the Employer, proof of residential address, copy of passport & BRP. 2. I will generally recommend Peter Vardy (Carz) Aberdeen, based on the great service provided by Mr. Okey (Lang Stracht, Aberdeen AB16 6LA). 3. The Vauxhall Mokka, Grandland X, and Hyundai Tucson are great, affordable, and low-maintenance cars to use and once you are settled in, feel free to switch, if you haven't felt the cost-of-living crisis yet LOL.
Healthcare options – What are your thoughts on the healthcare system? Have you got info foreigners should be aware of?
Healthcare is managed by the National Health Service, NHS. You are required to register with a General Practitioner (GP) within your area of residence as every community has a GP service available. Private insurance is costly, but advisable, especially after the COVID pandemic where GP appointments felt like digging gold, to get one. However, you will only be seen by your private medical provider upon referral from an NHS GP. Emergency services operate 24/7 but could be frustrating with long waiting times.
What are the biggest safety issues for expats living here?
Safety has not been a major concern as this also depends on the community you live in.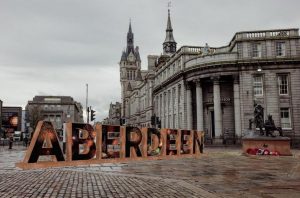 Renting a house/Apartment/Condo – What is the real estate market like in this country? How easy or complex is it to rent accommodation and what is the process like? 
For most companies, expats are assigned relocation agents that will mitigate the challenge of searching for a house. However, I always recommend people perform a simple search online and talk with colleagues to find out about houses and the housing market in the city. Proximity to town is pricy but you get value for money within the shires.
Which are the best neighborhoods for expats to live in the city in your opinion and how would you rate accommodation in the City?
Westhill, Kingswells, Counteswells, Cult, Bridge of Don, etc are the places most will recommend and I will recommend them for families. Accommodation in the city center is void of private garden spaces, but suitable for people who love city life.
What is the minimum salary(income) to guarantee a decent standard of living in this country?
Personally, I think this depends on an individual's lifestyle choices. The average Aberdeen salary in the UK is £32,909 per year or £16.88 per hour. Entry-level positions start at ~£25,000 per year while most experienced workers make up to £51,366 and above per year. You can check the Aberdeenshire salary scales here for more information.
Are you part of any associations or do you associate solely with expats?
As earlier mentioned, having a solid community around you is critical. Hence in addition to my church community, I am a member of the Association of Black & Minority Ethnic Engineers, as well as, Black Professionals Scotland and JCI Aberdeen.
LIVING WITH FAMILY AS AN EXPAT IN ABERDEEN
How did your spouse and kids adjust to their new home?
They found it pretty easy to integrate. There were no particular issues with settling in.
What's the education system like? How did you find enrolling your kids into the schools here? Would you recommend local schools or International Schools?
The Public schools are free and available in respective communities. However, there are also private and international schools that range from ~£1k to ~£3K per month.
Funding is also made available by theUK government.
Visa Renewal – What is the process of renewing your visa like?
Generally, these are managed either individually or by respective immigration officers/employees in the company, depending on your contract.
Any last words for our audience?
Aberdeen is a lovely city. There is a lot to see and do in Scotland. While here, I'll encourage you to explore as much as you can. Finally, there is no such thing as bad weather, just bad dressing. Always be ready for anything.
---
We are sorry that this post was not useful for you!
Let us improve this post!
Tell us how we can improve this post?