At only 21years old, Clement Ngosong born in Muyuka, Cameroon is working to pioneer new ways to help 100 young internally displaced Cameroonians with high income skills within two years.
Growing up in Muyuka, Clement didnt aspire for educational or professional success. After school, students would go and help their families in the fields, and prospects seemed mainly limited to farming and gang activity. Eventually, Clement was able to go and live with his eldest brother in Yaoundé, the capital city of Cameroon – where he experienced a different standard of life and education as well as the encouragement to aspire to bigger things. After living in Yaoundé for three years, it became clear to Clement how different people's chances were in the city and he gradually he became aware of a desire to help others.
The young aspiring leader became an Education Prefect at school which allowed him to help students choose the right subjects for their career aspirations, and to teach them topics that they didn't fully understand yet.
This nurtured his love of working with students in need of guidance.
At 17yrs, Clement decided to make it his mission to bridge the opportunity gap between urban and rural students in Cameroon, and began volunteering with nonprofit organizations such as Open Dreams. Some of these projects involved teaching students in crisis-ridden regions, organizing community clean-ups, and visiting orphanages with gifts. Helped by Clement's recruitment of other young people, around one thousand youths were impacted by his projects in less than a year.  
In 2019, Clement volunteered at the Open Dreams NGO Summer Academy, tutoring and mentoring twenty-five High Achieving Low Income (HALI) students from across Cameroon who were in search of scholarships. He also launched an initiative named Youths Inspiration, which supports young people to create positive change by sharing inspiring stories of young changemakers across Cameroon. Through Youths Inspiration he has reached over 1000 secondary school students, organized four conferences, and created a multinational workshop for young people in West Africa.  
Read Also: Miki Gilbert – "I desired to own a 'juju house' at the age of 11" – My journey of resilience
Throughout his school career, Clement has also achieved a lot academically. He represented his high school at national competitions such as "Brain Box" (an interschool competition organized by the national TV station) and the National Engineering Olympiads. He was the valedictorian of his graduating class, as well as Student of the Year. His track record of academic excellence won him the MasterCard Foundation Scholarship Award at Ashesi University, where he has been on the Dean's list every semester. Clement has achieved all this while helping his mother to battle ill health and overcome financial difficulties.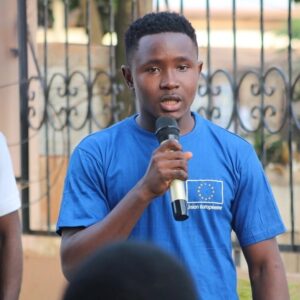 Clement intends to use the Global Student Prize money to set up a Youth Empowerment Foundation that would aim to empower at least 100 young internally displaced persons with high-income skills within two years.
He also intends to use the funds to support his existing Goodwill Fellowship Program, which aims to help young aspiring social entrepreneurs. 
The Chegg.org Global Student Prize is a US$100,000 award presented to an exceptional student, making a real impact on learning, the lives of their peers and on society beyond.
Source: Global Teacher Prize
We are sorry that this post was not useful for you!
Let us improve this post!
Tell us how we can improve this post?