I am Miki Gilbert a young Cameroonian who grew up with my grandmother in Fonfuka Bum, Boyo Division of the North West Region. I had the desire to be an independent 'Juju House' owner at the age of 11. Certainly, I spent most of my time with my grandfather and I was unavoidably present at every cultural festival in the village especially where jujus had to display. I didn't like school because there was little incentive for me to prioritize education. My grandmother will always plead with the older boys in school to intimidate and take me to school whenever I refused to attend school. Even when I decided to go to school, hunger will cause me to spend considerable time in the school orchard with some of my peers searching for what to eat. Despite these hurdles, I successfully went through primary education. At the secondary level (at the then Government Secondary School Fonfuka, now GBHS Fonfuka), the challenges were abounding, but I managed to pass in 7 subjects and proceeded to the Cameroon College of Arts, Science and Technology (CCAST) Bambili where I secured Geography and Economics at the Advance level in 2004. Permit me to pause here to say "Thank you to one Bum Elite – Pa Kimbi Solomon, who supported my enrolment into this prestigious school.  Later in 2004, I had barely settled down at the University of Buea as a new student recruit when the "bush falling" (to travel abroad for better education) mentality enveloped me. In the undying quest to meet this dream, my 'poor' parents were dubbed and my dream to study at the Swedish University of Agricultural Sciences (International Bachelors Programme in Forest and Landscape) shattered. My parents gave up on me after the plans for Sweden shattered. No money for house rents in Molyko, talk less of money for the numerous handouts and certain books that were made obligatory for students by some of my lecturers. Fast forward… I pleaded with my parents to just pay my fees and I will be able to sort myself out with rents, feeding, transport fare, and all other expenses. They believed in me, and I was given 100,000XAF (an equivalent of £133). Arriving in Buea for the second year, I pleaded with a friend to accommodate me, and behold it appears, he was an angel sent to rescue me. Being a classmate, we were both topping the class, despite being among the youngest in class.
As a result of the difficulties I faced, I rather preferred to invest the money for my school fees. Together with my 'Good Samaritan' friend, we bought a desktop computer and a printer. In a class of about 300 students, at least 100 trusted us with their assignments. We made sure we read and prepared the assignments for these students at a fee. That was the start of entrepreneurship, and we were nicknamed "Bamileke boys" as we could generate enough money each time an assignment was given.  Additionally, I had to travel on a weekly basis from Buea to Mile 16, Mutengene, and Tiko just to teach extra classes to gain additional income. In all of these, I had one of the best results in my department (Curriculum Studies and Teaching, Faculty of Education).
Joining AIESEC in 2006 and later on University of Buea Student's Union (UBSU), my mindset about leadership changed. Mentorship from AIESEC broadened my scope of reasoning and I became unsatisfied with what I was studying in UB (Curriculum Studies and Teaching – Geography).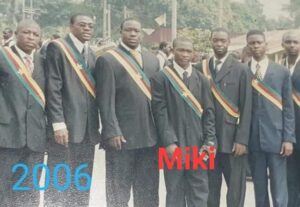 Towards my final year, I enrolled for a professional course in Project Planning and Management at the Pan African Institute for Development. While I was preparing to graduate from the University of Buea, my professional course at PAID-WA was also ongoing parallelly. I could only afford money for a short course (Specialised Development Studies in Project Planning and Management), though I had the desire to complete the Diploma in Development Studies which was 1,900,000XAF by then. As God planned it, I was selected to represent the University of Buea (UB) at the Inter-University Brain Trust, hosted by the University of Douala in 2007. In a team of three, our project titled "Cultural and Educational Industries in Cameroon: The Revitalisation of Creative Arts and Crafts for Sustainable Income Generation" emerged second. Thanks to our outstanding coaches – Prof Peter Titanji, Prof Akoko Robert, Dr Kini-Yen-Kinni Fongot and Madam Evelyn Tegomoh. Our success in this Brain Trust competition fetched me all the money I needed to complete my Diploma program at PAID-WA.
Read Also: Rethinking Economics for Africa through the Climate Action Prism
After graduation from UB and PAID-WA, my first job was with GP-DERUDEP, the African Development Bank Project in the North West Region. This also came at a time when SNV invited me for an interview. After serving with GP-DERUDEP for two years, there was a hunger for further studies, thanks to the wonderful advice and support of Mr. Muluh Gregory (the Project Coordinator). As the project was winding up in December 2010, I was back at PAID-WA for a Postgraduate Programme in Development Management and Governance. Upon graduation, I subscribed to the German International Cooperation (Gesellschaft für Internationale Zusammenarbeit (GIZ) GmbH) Buea as a Monitoring and Evaluation volunteer while actively engaging with Junior Chambers International (JCI, Buea). With three months of volunteer service at GIZ and exposure to great mentors at JCI like Roland Kwemain, Tedd Eyong and SINGEH Emile Désiré, just to name a few, I was fired up for impact. I got a call from Plan International, Cameroon where I served as a Monitoring and Evaluation Assistant for the Psychosocial Project. While serving with Plan Cameroon, GIZ invited me for a consultancy to build the capacity of Park Services in the area of Project Planning and Leadership. This consultancy was executed together with a top-notched Leadership Coach (Mr. Njisong Godlove, the Founder, and CEO of GoMAD). Being invited for a 3,000,000XAF in 2011 consultancy was a booster as I saw that the opportunity came as a result of my excellent services in the Monitoring and Evaluation Unit as a Volunteer. I pause here to say "Thank you" to my mentor at GIZ – Dr. Klaus Fleissner, who served as the Coordinator of PSMNR programme. After Spending 8 months with Plan Cameroon, I was invited for an interview for the Chevening scholarship by the British High Commission. Before attending the interview, I had drawn up my Professional Development Plan (PDP) for five years and the key question I was asked during the interview was: "Miki, who are you in 5years?"
My PDP made things easier for me and I left for the UK for a Master of Arts Degree in International Development at the University of Sheffield. This was a tough decision to make as I also had a VLIR-UOS scholarship to study Advanced Masters in Development Evaluation and Management at the University of Antwerp, Belgium, coupled with the fact that I had to give up my job with Plan Cameroon. At this very critical point, I recalled the words of my mentor at GP-DERUDEP (Mr. Muluh Gregory) who said "never give up study opportunities as jobs will always be there if you build the relevant capacity". Upon completion from the UK, I returned home, served with PAID-WA, and joined UN-Habitat as an Expert Group Member for the Global Land Indicator Initiative (Global Land Tool Network). I later moved over to serve as Monitoring and Evaluation Officer with Nascent Solutions Inc. to implement the USDA McGovern-Dole Food for Education and Child Nutrition Programme. This role was fulfilling as I saw in it a glaring opportunity to help other children of school-going age to eschew the challenges of my own days as a pupil in Fonfuka. While preparing to complete my contract with Nascent Solutions in 2018, I applied for a Commonwealth PhD scholarship and I was selected to research on transitioning mechanisms from donor-funded school feeding programmes to 'Home-Grown' at the School of Agriculture, Policy, and Development, University of Reading. Nevertheless, I had other tempting offers, for example, the Norwegian Refugee Council invited me for a Country role as Monitoring and Evaluation Coordinator. Though I attended the interview without a positive outcome, I remained focused on my scholarship with the Commonwealth Scholarship Commission. My decision to take up a PhD journey today (PhD in International and Rural Development) is simply a means to ensure that I become part of the solution to the problem of early childhood development through school feeding. Combining my childhood life experiences and the platform offered by Nascent Solutions Inc., I am now pursuing my purpose as my research in Malawi is examining the contributions of Home-Grown School Feeding to Poverty Reduction among smallholder farmers.  Reputed for not being a classroom-type PhD student, I'm paving a path for myself in the NGO sector by volunteering with Mary's Meals International; a school feeding agency implementing programmes in over 19 countries and feeding over 2 million children daily. In all of these, I now leading a fast-growing non-profit called Community Vision Group which is fast gaining prominence with offices in UK, Cameroon, and Malawi. That is my journey, and it continues…
---
Did you enjoy reading this story? Let us know in the comment section below. You can follow Miki Gilbert on Twitter @GNgwaneh
We are sorry that this post was not useful for you!
Let us improve this post!
Tell us how we can improve this post?