Applying for a Cameroon passport in the USA just like in other countries around the world has been simplified thereby reducing the processing time.
This process can be broken into 3 main steps:
Pre-enrollment via the online portal passcam.cm
Physical enrollment at the Cameroon embassy in Washington
The retrieving or collection of your passport.
In this article, we will discuss the 3 steps in detail to help you with your application process. Watch the video on the application process here or proceed to read below.
Application Procedure – Cameroon Passport in the USA
STEP 1: Pre-enrollment via the online portal 
To proceed with your passport application, open a web browser on your mobile phone or computer, enter https://www.passcam.cm in the address bar and follow the
prompts to begin your pre-enrollment. You will be prompted to enter the following.
Enter your personal details, as required, in the online form. Please review your data for accuracy before submission.
Note: About the Cameroonian National Identity Card (CNI or NIC), You will be asked to provide a Cameroonian national identity card information during this phase; if you do not have a valid NIC, please be aware that you can select the "Blank" option from
the drop-down list and skip this step.
Pay the 110,000 CFA francs passport fees online. The following payment methods are accepted: Yoomee, MTN Mobile Money, Orange Money, Yup, Express Union, and Debit/Credit card.
If you experience difficulties in making a debit or credit card payment online (for example, if the transaction keeps being declined), please, contact your bank FIRST to ensure that they are not blocking the transaction. If the issue cannot be solved
through your bank, for FURTHER ASSISTANCE, please contact the Customer Service of the enrollment portal by email at contact@passcam.cm.
Once the payment is made, a payment confirmation is generated. Save a copy of that receipt for your records and click on the appropriate button to return to the online portal to schedule an appointment. If you are not redirected to the online appointment scheduling page, please return to the main page of the portal https://www.passcam.cm and log in using the same method (cell phone number or email) as previously; you will be able to resume where you left off with your pre-enrollment, and from there you can continue to the appointment scheduling window.
STEP 2: Physical enrollment at the Embassy of Cameroon in Washington, DC.
For this phase, you are required to plan accordingly. The process at the embassy may take approximately 3-4 HOURS.
Please come at the appointed date and time to the Embassy of Cameroon in Washington, DC, located at 2349 Massachusetts Avenue, NW, Washington, DC 20008.
Bring a complete application file including the required originals and copies of documents. If your file is incomplete, you may have to reschedule your appointment and come back at a later date with a complete file. IT IS NOT possible to perform your physical enrollment with an incomplete file or to start the process and complete the application file later.
A staff member will verify the completeness of the application file, and proceed with the enrollment in the online system.
The applicant's photo and biometrics (height and fingerprint) are taken on-site and the concerned is required to confirm the accuracy of their information prior to its electronic submission to Yaoundé for processing.
In case of rejection, the applicant is immediately notified by text message and/or email. In that case, you are advised to email contact@passcam.cm for further details concerning the issue and the options that are available to the applicant to remediate that outcome. If there is no rejection, the new passport is produced within 48 hours in Yaoundé, and subsequently transmitted to the Embassy in Washington, DC a few weeks later.
Here's more information on the list of required documents for your Cameroon Passport in the USA
STEP3: Retrieving your produced Cameroon passport in the USA
Once the new passport arrives at the Embassy in Washington, DC, it is activated electronically and a notification is sent by text message
and/or email to the beneficiary who, until further notice, can ONLY collect it by mail (See the notice below about collecting your new Cameroon passport in the USA by post.
For up to date on the collections process, PLEASE refer to the embassy website here
New passport beneficiaries are hereby advised to take steps to collect their new passport promptly upon reception of the email/text message notification. Failure to collect your passport within 6 months of its issuance will be returned to Cameroon. In this case, you will be required to contact the Frontier Police to collect your passport.
What is the processing time for Cameroon Passport in the USA?
Please be advised that Cameroon passports are not produced in Washington, DC, but rather in Yaounde. The estimated wait time for a new passport to reach Washington, DC, following a successful physical enrollment is approximately 2months.
What is the address of the Cameroon Embassy in the USA?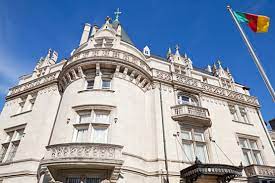 EMBASSY OF THE REPUBLIC OF CAMEROON
Telephone: (202) 265-8790
Fax: (202) 387-3826
Email: cs@cameroonembassyusa.org
AMBASSADE DE LA REPUBLIQUE DU CAMEROUN
2349 Massachusetts Avenue N.W.
Washington, DC 20008
www.cameroonembassyusa.org
You can choose an appointment date and time for the physical enrollment. After scheduling the appointment, download and print the pre-enrollment application form that is generated while in the portal, or log into your email account to print it from there, and bring it along with the originals and copies of the required documents for your appointment (See passport application checklist).
Select the right location for your physical enrollment. Ensure you have selected the Embassy of Cameroon in Washington, DC, as the location for your physical
enrollment. You can confirm the same in your confirmation email. If by error your appointment is scheduled at a different location by mistake, the staff of the Embassy in DC will not have access to your enrollment information and it will not be
possible to receive you.
Applicants must schedule an appointment online themselves. It is not possible for the Consular Section to do it on your behalf.
How can I reschedule my Cameroon passport appointment?
If you need to reschedule your appointment at a different date/time/location, you can
do so through the online portal yourself, or if that option is not available to you, you can submit your request to Customer Service by email at contact@passcam.cm. As a reminder, please make sure that you select the intended location for your
appointment.
For any questions not covered in this article, you can submit your inquiry by email to contact@passcam.cm.
Planning for the application of your Cameroon Passport in the USA – Here are some DON'Ts
It is advised you refrain from purchasing a flight ticket or from finalizing their travel arrangements UNTIL AFTER you receive the renewed passport.
You can ONLY collect your Cameroon passport from the location where the physical enrollment took place. Indeed, a new passport must be activated electronically at the physical enrollment location to be usable by its beneficiary. It is after the activation process that the beneficiary receives an email/text message notification. Hence, if you applied at the Embassy in Washington, DC, it is not permitted for a third party to collect the passport in Cameroon on your behalf.
If you do not possess a valid passport and you need to travel urgently to Cameroon, please consider applying for a Cameroonian Travel Document (Laissez-Passer) which will enable you to travel ONLY TO CAMEROON. You must renew your passport there prior to returning to the United States or to your country of residence. Note that a passport can be produced in Yaounde within 48 hours.
---
Read Also
Cameroon passport in the USA –  9 things applicants must note
All Cameroonian citizens in the jurisdiction of the Embassy of Cameroon in Washington D.C. which includes the USA, Mexico, Costa Rica, and the Bahamas must submit their application for a biometric passport through this Embassy.
Cameroonian citizens requesting the services of the Embassy are advised that, per Cameroon Law, they can bear ONLY ONE passport!
Please be aware that the Embassy of Cameroon does not accept passport extension requests, but ONLY a new Biometric Passport issuance/renewal request: once the process is complete, the applicant receives a new passport booklet.
Passport Applications require a physical presence for physical enrolment. An application cannot be made by mail or email. All applicants of all ages must schedule an appointment online before the embassy for this process, which involves identifying the applicant and capturing biometric elements including photographs, fingerprints, and height. In the case of under-aged applicants (under 21 years old at the time of the appointment), a parent or legal guardian must accompany the child to the Embassy.
Only duly registered applicants will be allowed to enter the Embassy. People accompanying the applicant(s) will not be permitted to enter except if they are accompanying a minor or a disabled person.
Oversize or travel bags ARE NOT allowed on the premises of the Embassy.
For any questions related to the passport application process or requirements, please send an email to passportappointment@cameroonembassyusa.org. The title of your email should give an idea about the problem/issue/question that you are inquiring about. You will receive a reply as soon as possible.
Before submitting an inquiry by email, please read the present documentation entirely as some of the frequently asked questions or concerns have been answered/addressed below and are marked by the icon. See FAQ here
Did you find this information helpful? Let us know in the comment section below. If you recently applied for a Cameroon Passport in the USA and have an experience/unique situation other people should be aware of, please leave a comment below.
PBB would not be where it is today without the helpful input, contributions, and advice from thousands of people and you too can be a part of it. These are the several ways you can get involved. You can give us feedback, suggest corrections to this article based on your experience, share your own story (life abroad) with us, share other story ideas, or even become one of our regular contributors. You can get in touch with us by completing this form or by email at info@passportsbeyondborders.com and we'll get back to you as soon as we can.
---
Read more Articles on Passport Application
We are sorry that this post was not useful for you!
Let us improve this post!
Tell us how we can improve this post?