Tchétché Kipré
Ivorianian professional footballer in Malaysia is 31yrs old who moved to Malaysia in June 2017 for a new challenge after playing for one year with Al-Suwaiq in Oman, and five years in Tanzania.
Tchétché in a one-on-one interview with PBB gives a detailed account of his football experience and the Super League in Malaysia.
"Growing up, my family found it hard to accept my desire to become a professional footballer. They wanted me to go to school and acquire degrees. My even dad thought football was for delinquents. But because it was my heart desire, I always found myself on the opposing end of my parents' choices for me. My dad only relaxed on this whole idea of school when he saw me play in a league in Ivory Coast close to the city he resided in. At the end of the match, the journalist asked him, how he felt seeing his son excelling in his football career? It was in that response that I felt his total support and encouragement. He was so proud of me and encouraged me to carry on. From then on he followed every game I played in."
MOVING TO MALAYSIA
Why did you move to play football in Malaysia?
I felt the need to take this exciting opportunity after playing in three different countries. My agent contacted me about a second division team in Malaysia interested in my talents. I didn't quite like the idea as it would be my first time playing in a team below my level. My first instincts were "this isn't good for my career" but then my agent told me that the team would require my help to take them to the Super League. That motivated me to take on the challenge. It felt risky but it was worth the challenge to take the team to the super League. As a footballer, I love taking on challenges
PLAYING FOOTBALL IN MALAYSIA (TERENGGANU FC)
How would you rate your performances?
I give my best everywhere I am. My performances in my opinion have been great.
What has been your most exciting football experience?
The finals. That was when we promoted to team to super league. Its quite a big deal. We did well to finish up in the top 5.
So far which has been your greatest achievement?
When we got to the super league and finishing in the top 5. Also playing in the finals of Malaysia cup which hasn't happened since 2001. That's some 18 years ago.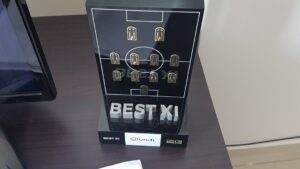 How do you cope with the language barrier considering you are of a French background?
For me, language is not a barrier. I've played in 3 countries Tanzania, even though they speak English, most spoke Swahili. I also played in Oman where Arabic is the main language spoken. In football, the language is on the field. I try my best to understand the coach and the players.
How did you deal with the rumours that you were leaving Terengganu FC for another?
Actually, my contract ended after the finals. So some people started advertising me in Thailand, and other Asian and Arab countries. But after talking with the management with respect to their future plans, we then agreed on another contract and I stayed with the team.
What's your fan base like? Do you have lots of Malaysian fans?
Hahaha, I'm really not sure about the number but I know a lot of people really like me. Each time I step out, people would recognize me and want to take pictures with me. I have to hide sometimes because it feels embarrassing when you have to step aside from family to take pictures. My wife encourages me to take pictures with my fans. It's actually part of the job.
How do you find playing football as an African in Malaysia? Do you think they on the same level of professionalism as you are?
Honestly, I like it. It's a great experience for me.
But in football, there is no small or big team. It's the same set of skills. Actually, after my first training, I was impressed at how much talent they have. The difference for me is with the Leagues. Each league comes with its own challenges. I feel Malaysians have their own style of play but the bottom line is they have the skill.
When was the one moment when you felt the most joy as a football player?
During the finals, we played in November 2018. It was my first time playing in a stadium packed with over 80,000 people. People came from all over Malaysia. The energy in the city was electric. I will forever cherish that feeling.
Do you have any rivals in the team and how do you deal with that?
Well, maybe some people take me as their rival but I do not see other team members as rivals. I take all the players like my brothers and I think they feel the same way.
What's the difference between playing football here compared to Ivory Coast? 
The main issue would be the pitch where we play the matches and the training grounds are way advanced here in Malaysia than back home.
The football players back in Ivory Coast have the raw talent,  irrespective of the poor infrastructure, they are still able to do exceptionally well.
Would you like to see Malaysia playing in the world cup?
Oh Yes, I'd love to. This is where I work so I'd like to see them one day rise to the global stage. It will definitely require a lot of hard work and restructuring but everything is possible.
THE FUTURE
Is there anything you wish differently about the playing conditions here?
Yes, there would be things I do not like obviously. Nothing is perfect in the world. My job is to play football and not look at other departments which do not concern me.
Where do you see yourself in the nearest future?
In football, you never really know where the wind may blow. However, I play for Terengganu FC at the moment and I am happy here.
What advice can you give to young African players who aspire to play football abroad?
In the game of football, nothing comes easy. A lot of young aspiring players have reached out to me from Ivory Coast wanting to come and play football here. My advice to them is to first yourself first in your home country, by doing your best and when the opportunity comes, you can move to another.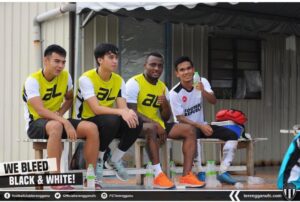 We are sorry that this post was not useful for you!
Let us improve this post!
Tell us how we can improve this post?