Passports Beyond Borders presents its first edition of 20 Inspiring Africans in Malaysia. This list features 20 people of African descent (20 persons + 1 Company) from different sectors who are positively impacting their local communities and Malaysia as a whole through their ideas, intellect and businesses. Africans who are breaking down barriers and pushing limits to what Africans can achieve in Malaysia.
1. Dato' Emmanuel Chukwuma Abugu (Nigerian) – Founder & CEO Majestic Target SDN BHD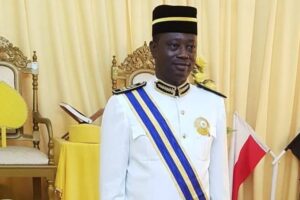 Dato Emmanuel moved to Malaysia in 1996 to further his education. While studying, he hawked watches and wallets just to be able to pay his bills.
Upon completion, he opened the first Nigerian Owned  Food outlet in Malaysia operated in a chinese concept registered under his wife's name. In February 2000, he founded Majestic Target Sdn. Bhd a company specialized in Logistics and global shipping services which has been in operation till date. In 2017, he was nominated for datoship for his crime free longstay in Malaysia and flying high the image of his country Nigeria and also for his philantrophic contributions to Malaysia. In 2018, he also received an  award of recognition from the Nigerian high commission in Malaysia.
2. Dato' Roland (Nigerian) – Founder & CEO C.R Recycle (M) SDN BHD
Dato Roland is the founder of CR Recycle SDN BHD, Cathroland Ventures SDN BHD and R.O. Lekwas Company Lome Togo West Africa all geared towards Charitable activities. He moved to Malaysia in 2006 where he obtained a Diploma in Business (DBS) at Goon Institute Kuala Lumpur. With a huge heart for helping the less priviledged, Dato Roland decided to start up companies to cater for the needs of the under priviledge. He helps most of the charity homes in Malaysia by turning recycling to income to help cater for their needs. With these contributions to the country Malaysia, he was nominated for Datoship by one of the 6 charity organizations he represents in Malaysia.
3. Vincent Uchenna Anyanwu (Nigerian) – Founder & CEO of Vinzing SDN BHD
Mr Vincent Uchenna Anyanwu was born in Nigeria, His parents were both teachers hence his love for Education
After his secondary and tertiary education he left Nigeria in pursuit of his studies in Singapore in 1994. After his studies and sojourn in Singapore he found greater opportunities in neighboring Malaysia. In 2009,he relocated to Malaysia where he established his existing business Vinzing SDN BHD, a limited liability company under the umbrella company covering other subsidiaries of the group.. His business concern focuses on hospitality industry, international trading, real estate and restaurants, export and exposition of African culture in his outstanding passion. He actualized this passion through his active in participation in hospitality and restaurant chain across Asia. In his years in the Asian continent, his inner happiness is conjured not when business is at its peak but whenever the opportunity to assist a fellow African is accomplished. Service to humanity in general and to an African is an irrevocable call to him which providence fulfilled in his life by endowing him with a Chinese – Malaysian wife who shares the same aspirations . In the course of standing out for fellow African,he has earned confrontation from some Asian countries but that has not deterred him but has encouraged him the more.
4. Michael Emeka Ugwunali (Nigerian) – Chief Financial Officer (CFO) Oil Field Service Company
Michael Emeka Ugwunali recently relocated to Malaysia in June 2019 with his family. His passion for developing and nurturing talents and taking up new challenges are the core reasons he took up the role of CFO in Malaysia.
In his short but steady journey to CFO for an Oil Field Service company, the determination to succeed, hard work, fully entrenched in utmost commitment and Self -motivation have been his guiding principles. As a business growth and finance specialist with over 17 years of extensive experience, he always looked forward to new challenges and opportunities to add value to the young and upcoming talents across the globe. Having done this on the African continent for several years, Asia is another continent where he intends to unleash his full potentials to help young talents continue to develop. He is married to a beautiful woman and blessed with three children. His family support and encouragement is one of the main reason he has been successful in his career all these years. He considers his current role only as a stepping stone to a greater future.
5. Dr Ray Ikechukwu Jacob (Nigerian) – Former Lecturer/Associate Research Fellow AADUN
Dr Ray arrived in Malaysia in 2005 for a Christian Missionary Evangelist work. Upon arrival, he discovered Malaysia doesn't provide a missionary visa so he was advised to apply for a doctoral study program which he did and was given admission to the National University of Malaysia (UKM) where he studied Social Anthropology and received a Doctorate degree in 2013.
Prior to that, Tun Dr Mahathir (Malaysian Prime Minister) had passed a message to the Malaysian institutions of higher learning to start African and Arabic studies, of which only Arabic were able to be carried out. So, while at UKM, Dr Ray started emphasizing the need for an African program of study which led to his appointment as the Coordinator for the (African Studies Unit) under "Institute of Malaysian and International Studies, (IKMAS). He was later called for an interview at UM(Uni Malaya) to help take AADUN(Africa-Asia Development University Network) to the next level.
Dr Ray's goal for the African Studies Program in a country where Africa is not known and projects African Citizens as primitive, undeveloped, rejected and discriminated by a majority of Malaysians was to know and study the continent, associate and to love her people. Which is totally different from a bilateral relationship. These projects have helped in uniting ALL African Students (UMASA) under Uni Malaya for the first time in the institution's history. AADUN has opened the way in bringing all African diplomatic heads of mission to participate in its programs and also necessitates more academic research into exploring more about Africa through networking with some African institutions of higher learning.
6. Dr Bosede Edwards (Nigerian) – Academician, Writer, Entrepreneur
Dr Bosede is a researcher, teacher, trainer, instructional designer, and serial entrepreneur. She studied for her PhD in a Malaysian public university and has useful personal experience with studying (all levels), working and doing business in Malaysia. She is a writer who has successfully published 6 books including 3 fictions for kids which include Parenting: Present-day challenges Foolproof solutions, One Good Turn, Ebele the Slave, Introduction to Organic Chemistry, Harvest of Shame, Setting Boundaries.
She is privately working at building a research network consisting of a multidisciplinary team of scholars called Global Trends Academy with the aim of promoting Academic Research, Collaboration and linkages between African scholars and the rest of the world. This is done through conferences, training workshops and academic journals among other things. She is also a representative of Arrows Transactions SDN BHD (ATSB), a licensed international student recruitment agency based in Malaysia. ATSB provides student recruitment, and placement services (high school to post-PhD) to many public and private universities in Malaysia and overseas.
7. Dr Uchechi Cynthia Ohajionu (Nigerian) – Academician
Dr Uchechi Cynthia Ohajionu( a Wife, Mom and Academician) moved to Malaysia in January 2011 to pursue a Master's programme at INTI International University, Negeri Sembilan. Once the programme came to an end, she applied for and got a scholarship for a PhD in 2012 which was a four-year journey and graduated in 2016.She started her academic career as a Tutor and Academic Advisor at the Faculty of Business, Communications and Law, INTI International University started in 2011. While studying for her Doctorate, she applied for and got the position. She followed up with students on any report of unsatisfactory work (e.g. poor attendance, fail and/or failing grades, incomplete grades from past semester(s), etc.). Special attention was paid to students who were placed on academic probation. She also informed and referred students to other institutional resources when academic, attitudinal, attendance, or other personal problems require intervention by other professionals (e.g., Academic Services, Personal Counseling, etc.). Upon her graduation, she got a Lecturing job with Asia Pacific University of Technology & Innovation in 2017.
8. Fokim Fon Fondo (Cameroonian) Founder & CEO of FOKIM MONEY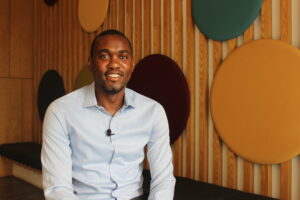 Fokim Fon Fondo moved to Malaysia on 7th January 2008 solely for studies where he graduated with a BSc in Business Information Technology. During his stay in Malaysia, Fon noticed the wide variety of difficulties Africans in the country faced and after carrying out a survey, visa and monetary transactions topped his survey as the most challenging. Fon launched Fokim Money in 2015 a money transfer company designed to serve the Cameroonian community in Particular and the African community in general. Their goal is to link Africa and Asia through a cross-continental flow of finance and goods, giving Africans in the diaspora the opportunity to successfully carry out their projects back home.
www.fokimmoney.com
 is a secure and trustworthy money transfer platform, providing data analysis and financial consultancy. Fon through his company also aims to paint an iconic company for Africans, in this society. Noted more for the wrong reasons rather for the right.
9. Eze Chinedu Michael (Nigerian) – Owner of J&P Restaurant SDN. BHD
Eze came to MALAYSIA on 13th MARCH 2013 as a student. Before coming, he expected to be able to pay his tuition by working part-time. Little did he know that he was in for disappointment as there were little or no such facilities for foreign students.
As an Igbo man (a particular tribe in Nigeria with business ideas genetically engraved in their DNAs) Eze started considering what to do because life was very difficult for him. As fate will have it, he met and fell in love with a lovely Malay Chinese lady. But for the family not to look down on him, he had to figure out something really fast before their marriage introduction. Then he conceived the idea of a car rental business. J&P Lovely Enterprise was created in 2015 and started with only 2 cars. Today the company proudly owns 7 cars. Also in July 2016, a second company was started known as J&P Restaurant. It started as a small enterprise that became a registered company (SDN BHD) in 2017. This restaurant provides a place of relaxation by providing African delicacies thereby making Africans in Malaysia feel at home. Both companies are fully operational. Eze is also involved in Humanitarian activities. He takes delight in assisting his fellow Nigerian/African arrested and detained.
10. Ismail Nabe (Guinean) –  Vice President & Co-Founder of Malaysia Africa Professionals & Entrepreneurs (MAPE)
KOUASSI Nanan Serge from Cote d'Ivoire (Ivory Coast) and NABE Ismael from the Republic of Guinea are both founders of Malaysia Africa Professionals & Entrepreneurs(MAPE).
They both came to Malaysia more than 14 years ago to further their studies
(MBA for Serge and Master in Telecommunication Engineering, MBA & PhD for Ismael from the University of Malaya).The idea of MAPE was born after Ismael and Serge attended a momentous event which was the 9th Langkawi International Dialogue (LID) held in June 2011. The Dialogue was Tun Dr Mahatir's brainchild to foster smart partnerships across governments, businesses and social sectors especially with those from Africa and the Caribbean. As more and more Malaysian companies have been taking interest in the economic resurgence of Africa as well as exploring business and investment opportunities available in the continent, they decided it was about time to have a formal and recognized entity that could spearhead, facilitate and promote more Malaysian business and investment engagement with Africa.
Over the years they have contributed to a stronger and more dynamic economic partnership between Malaysia & Africa. MAPE also offers assistance to African students in Malaysia for Internship & Job placements as well as sponsorships for social activities (educational trips, sports activities, etc.)
11. Uche Obanji (Nigerian) – Founder & CEO of Rehoboth SDN BHD
Uche resigned from his job to move abroad(Malaysia) because he thought
living abroad was a bed of 
roses
. When he got here, he suffered and wept bitterly and the only good food available to him was in his dreams. With no one to ask a penny from, he remembered he was the son of a shoemaker. To survive, Uche started making Pams(Leather Sandals) while studying at Edu Train College. He later got a shop space in Giant Taman Connaught Cheras and as time went by, ideas started coming up. Uche started doing jobs for some African churches as he was also a skilled interior decorator. He later got some contract jobs with some companies. Today Uche is counting his blessings. His registered company(since 2013) is into construction and interior decoration, installation of CCTV and access door control.  He is happily married to his longtime girlfriend Anita and he is very fluent in Bahasa.
12. Chukwudi Barah(Nigerian) -Founder of OtherExpats & Ahbinci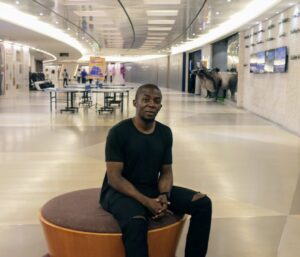 Chukwudi moved to Malaysia in 2008 where he graduated with a degree in Management Information Systems.
In March of 2015, he created an online community for people of colour known as otherexpats.com. Other Expats is a resource community that provides information, tips and guides on living in Malaysia as people of colour (POC). They share content from their own experiences and research, and often customized to the needs of expatriates who identify as People of Colour.
In June 2019, Chukwudi also founded Ahbinci.com. He came up with ahbinci after looking for a place that allows his colleagues (Malaysians & others) at work to try Nigerian food. And there was none in the surrounding areas and he wasn't sure what the other African cuisines were like, so he created ahbinci to crowdsource the answers. This allows people to add and rate African restaurants that they've visited.
13. Uche Nwabuike (Nigerian) – Founder & CEO of Eventures Concept
Uche moved to Malaysia in 2012 for further Education. He obtained a Bachelors in Mechanic Engineering and is
currently doing a Masters in Business Administration specializing in General Management. Uche's passion for organizing and planning events led to the creation of his company Eventures Concept(an event management company) which has been operational for over 2 years. They are involved in event planning & management, fashion-related activities, travel and tour.Eventures Concept started beauty pageants for African ladies in Malaysia (Miss Africa Malaysia) and a fashion show (AfroAsia Fashion Show). These events serve as a medium for Africans to exhibit their culture through cultural display, unity dance and also serve as a medium to enlighten everyone about the diversity and beauty of the African culture. It would also be a medium of giving back to the Malaysian community as a Finalist and the winner would be involved in good cause such as charity, fundraising for the underprivileged. In June 2019, Uche won the African Personality of the year 2019 Award for the Pride of Africa Asia Awards in China.
14. Malachi Erias Okolo (Nigerian) – Founder of Onpoint TV
Malachi moved to Malaysia in 2013 to further his studies in Communication Psychology for studies both an undergraduate and postgraduate ( communication psychology BSc).
He started OnPoint TV Malaysia on February 15th 2018 with the support of Pastor Ephraim Addie Aaron, RCCG Malaysia province ll coordinator.The vision was from God himself to be a voice of the African community in Malaysia as only the negative things were being reported on local channels. Also to bridge the gap between Africans and Malaysians, to showcase to the world the beauty and the impact of Africans around the globe and to put an end to discrimination towards Africans all over the world, as well as educate Africans of who and how gifted they are.
Humanitarian wise, Malachi loves to help those people in the prisons or on the streets or provide a platform to the lost. OnpointTV Africa renders MCs, Videography, Photography, events planning (red carpet and live TV broadcast) and basically humanitarian matters.
15. Ejovwo Faith Akpobome (Nigerian) – Founder/Blogger at Malaysia Babes Gist
Faith is an Asia news carrier and a blogger at 
www.malaysiababesgist.com/
She is best known for her Facebook page Malaysiababesgist. She is a presenter, humanitarian, entrepreneur and certified chef. She came to Malaysia on the 14th September 2016 for an undergraduate degree in Corporate Administration due to be completed this year 2019. In November 2017, she decide to start an informative forum and came up with Malaysiababesgist on Facebook, which is the fastest-growing African page in Asia. Annabel is currently studying at Masa Kolej. She was recognized by UPU worldwide and was nominated for the advancement and merit award and won MALAYSIA YOUTH AMBASSADOR for the year 2019. She is currently the brand ambassador to vkprint Nigeria.
16. Amara Felix (Nigerian) – Outstanding Nigerian Student in Malaysia
Amara Felix has set a yet to be broken record at the Kuala Lumpur Metropolitan University with an overall GPA of 3.98 in software engineering in 2015, no one has broken this record to date.
This singular achievement got him an offer to pursue his PhD at the University of Malaya, Malaysia. He is a Certified Android Developer with Grade A, at Edureka. He is also the Winner of the International Excellence award in 2015 at Kuala Lumpur Metropolitan University College Malaysia.Winner Best paper ward at the 2016 postgraduate research symposium University Malaya Malaysia. Winner Best paper award 2017 international conference on Robotics and Automation science Hong Kong. Winner Best paper award at the 2017 International Conference on Innovative research in science, technology and management National University Singapore.
Winner Best paper award 2017 Academics era International conference New York United States.
He has made Nigerians and Africa proud both here in Malaysia and across the globe.
Amara is a first-class material. A Software Engineer by profession and a part-time lecturer in one of the Malaysian institution of high learning. He is happily married.
17. Sumareh Mohamadou (Gambian / Malaysian – Professional Footballer (Pahang FC & National Team) Malaysia
Mohamadou Sumareh (born 20 September 1994) is a 
Gambian
-born 
Malaysian
 footballer who plays for 
Pahang
 in the 
Malaysia Super League
and for the Malaysian national team. He is nick-named Keli boy by Pahang FA fans because of his slimy and smooth dribbling as well as ball trickery. Sumareh moved to Malaysia at the age of 13 with his family. His business mogul dad who resides in the USA decided to settle the family in Malaysia because it was the closest to his Asia business route. Sumareh grew and studied to high school level in Malaysia before deciding to make some sacrifices to becoming a professional football player. Sumareh is the only naturalized African in Malaysia as of 2019. See more of Sumareh's interview 
here.
18. Dickson Nwakaeme (Nigerian) – Professional Footballer (Pahang FC) Malaysia
Dickson is a Nigerian professional 
footballer
 who plays as a forward for 
Pahang FA
. He is one of the best foreign players in Malaysia Super League history. He first moved to Malaysia and played for Kelantan in 2013. In 2014 he played for Pahang FC before moving out to Angers in France. He came back to Pahang FA in 2019.  Dickson has played and won 4 cups in Malaysia (Kelantan FA cup, Pahang FA cup, Malaysian cup and Charity cup).
19. Kipre Tchetche(Ivorian) – Professional footballer (Terranganu FC) Malaysia
Tchétché Kipré moved to Malaysia in June 2017 for a new challenge after playing for one year with Al-Suwaiq in Oman, and five years in Tanzania. When his agent contacted him about a second division team in Malaysia interested in his talents, he didn't quite like the idea. His first instincts were "this isn't good for my career" as the team is below his level. The icing on the cake was that the team would require his help to take them to the Super League. This motivated him to take on the challenge. It felt risky but it was worth the challenge to take the team to the Super League.Terengganu FC got to the super league and finished in the top 5 and also competed in the finals of the Malaysia cup which hasn't happened since 2001.
20. Kimberly N Fombang (Cameroonian) – Founder & CEO Passports Beyond Borders
Kimberly is the award-winning founder & CEO of Passports Beyond Borders. In April 2017, Kim moved to Malaysia from Dubai with her 2month old daughter due to her husband's job transfer. Even though Kim enjoyed her role as a stay at home wife and mother…
she felt a deeper calling to impact the world outside the four walls of her house; thus Passports Beyond Borders was birthed! PBB is a resource platform for anyone living, planning to visit or relocate to a foreign country. A platform to share customized information that will serve as a guide for expats, tourists, students etc.This platform would show that "expats" are not limited to a particular race or skin colour. The information published on this platform would help curb human trafficking by fraudulent agents who are only out to make money from desperate Africans looking for greener pastures beyond their borders. Humanitarian wise, Kim is in the process of raising funds for Africans stuck in detention centres in Malaysia who can't afford to raise funds to pay for their return trip home after serving their time in jail.
Kimberly won African Woman of the Year 2019, for the Pride of Africa Asia Pacific Awards (POAA).
21. Ethiopian Airlines – African Airline Company
Ethiopian (ET) has been operating from Kuala Lumpur since 2012 and is currently the only African carrier with a direct connection to Malaysia. They operate a 5-weekly service flights (via Singapore) and have been Skytrax's Africa Best Airlines for 3 years in a row (Year 2017, 2018 and 2019). Ethiopian transports an average of 180 passengers daily to Africa using the modern Boeing 787-Dreamliner and an award-winning cabin crew onboard service.
ET flies to over 125 worldwide destinations and is a proud member of the Star Alliance Network.
Ethiopian in Malaysia
Ethiopian continues its effort to establish a strong brand presence in Malaysia by working hand-in-hand with various major body organizations in terms of sponsorships and also collaborations. This includes Malaysia Tourism Board, Malaysia External Trade Development Corporation (MATRADE), Malaysia African Professionals and Entrepreneurs (MAPE), all the respective African High Commissions/Embassies and Malaysian Association of Tour and Travel Agents (MATTA) besides regularly associating itself with the major local travel trade events all over Malaysia.
Overall, Ethiopian is seeing a positive growth in its development here in Malaysia and is still looking much to improve its service and further its ambition to be the one of the best airlines in the world. From a very humble beginning to a Leading African Aviation Group, Ethiopian Airlines is a story of a 74 years old successful aviation journey.
We are sorry that this post was not useful for you!
Let us improve this post!
Tell us how we can improve this post?