Naana and Leslie are from Ghana, Accra to be precise.
Leslie moved to Malaysia in June 2015 when he got the opportunity to fill a vacancy in Malaysia with the subsidiary branch of the largest Private Bank in Ghana where he worked at the time. While in Ghana, he handled the financial reporting for the Bank and its subsidiaries. So when the position opened up for someone to learn the business in Malaysia, he was best positioned for this.
Naana resigned from her job in Ghana and later joined her husband in Malaysia in September 2015 because it was rather too soon for work to rob them of their time together as newlyweds.
They live in Kuala Lumpur, KL Sentral.
---
WORKING IN MALAYSIA
Most women who move with their husbands, most likely end up being stay-at-home wives due to the impossibility of finding a job here in Malaysia. How did you land such a good job in the number 1 Oil Field Service company in the world?
Yes, you are right to say that. I have been in Malaysia for 3 years now but stayed home for 2years before landing this job. Getting this job was purely the Grace of God I must say. Before coming to Malaysia, I knew a couple of people who had been transferred from this company in Ghana to Malaysia so we stayed in Contact. That's the power of networking.
Meanwhile, I sent in my CV again and got some help from one of the bosses. But then there was that doubt since everyone told me they only employ locals so I shouldn't raise my hopes. It took quite a while before being called for an interview but I did eventually get the job.
Naana what is your biggest challenge working in Malaysia and how do you overcome them?
Mine isn't directly related to the country but the demanding nature of work and meeting of datelines but then it only makes one stronger. My husband is extremely supportive and prayers from family kept me going when I felt like giving up.
Are you paid as a local or expat when recruited from Malaysia?
If you are recruited while in Malaysia and given a local role, then you are most likely to be on a local package and privileges. But then I think it also depends on the organization sourcing you. If you are recruited by a global organization which requires displacement flexibility ever so often, then you would definitely be on an expat package.
---
LIFE IN MALAYSIA
What do you enjoy most about living and working in Malaysia?
Leslie: For me, it's the convenience and proximity to everything I need. We are just a 5minutes walk away from the metro station, and then I have a free bus which takes me to work and the shopping facilities around.
Naana: I love high-speed internet, the excellent road network. I feel it's just a really nice fancy place.
SEE ALSO: The Ossoms- Ghanaian Expat Family
How friendly are the locals?
I think this is a difficult answer because Malaysia is quite diverse and it will be unfair to make any generalizations. Different people react in different ways to different things. You'll come across the hardworking and the lazy ones, the discriminatory and embracing. But overall we feel they are really nice people?
PERSONAL OPINIONS
What's your best marriage advice to a couple who plan to relocate to Malaysia?
1. Keep an open mind due to the diverse nature of the people.
2. Keep an eye on your finances. Find all the opportunities to minimize cost. There are plenty of pretty decent local neighbourhoods that are foreigner friendly not only the high-end condos.
Leslie in your opinion What's the best way to support a spouse who relocated for your career?
Give her both your debit and credit card. Hahaha no that's a joke.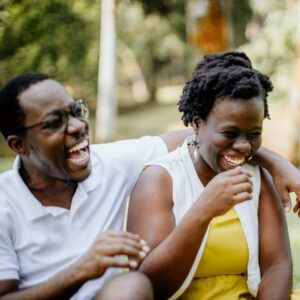 I think you need to encourage your partner to understand that the move is not just about/for one person.
Encourage your spouse to use their God-given abilities because there are opportunities everywhere not just in the formal sector, they can study or get some general skills instead of wasting time.
Psychologically and emotionally it can be very tough so it's important to be very supportive during this phase.
---
THE FUTURE…
So what are your long term plans as far as living in Malaysia is concerned?
There are really no long term plans. We are here on a contract so I think it's about managing that perfectly and if the company decides to move us that then we would make the consideration.
Are you an expat in Malaysia? We'd love to hear and share your expat experience.
We are sorry that this post was not useful for you!
Let us improve this post!
Tell us how we can improve this post?